Adobe's annual Adobe MAX conference kicks off today, and the company is introducing a whole slew of updates to its Creative Cloud platform. Among those updates is a new version of Adobe Photoshop Lightroom CC, which is now a full cloud-based photography service.
Lightroom CC has been available cross-platform for some time now with a dedicated Mac app and an iOS app, but with the new cloud service, Adobe is aiming to make editing and organizing photos simpler for both professionals and enthusiasts across multiple devices.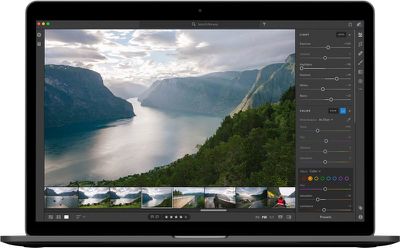 The new version of Lightroom CC continues to offer the same image editing capabilities that have been available in previous versions of Lightroom, but there's a new streamlined user interface with quick adjustment tools and presets that are quicker and easier to use.
All content is stored in the cloud, with Adobe providing users with up to 1TB of storage space that includes support for RAW images.


Full resolution photos stored in Lightroom can be edited on any device using the Lightroom CC app for Mac, the iOS app, or the web interface. Lightroom backs up all photos and keeps edits synced across devices.
Lightroom CC supports Adobe Sensei machine learning technology, which is able to recognize objects and people in photographs to make searching for and finding content simpler. Keywords are automatically applied to photos based on content.
Sharing tools make it simple to share Lightroom CC content directly to social networks, and there's an option to create Lightroom web galleries to showcase multiple photos at once. Lightroom CC also supports integration with Adobe Portfolio.


On iOS devices, the updated Lightroom CC app features the same Adobe Sensei search technology, and it offers an enhanced iPad layout, support for the iOS 11 Files app, and support for the HEIF image format introduced in iOS 11.
With the launch of the new cloud-based Lightroom CC app, Adobe is not eliminating the previous version of Lightroom. The older non-cloud version of Lightroom, which will continue to focus on a more traditional desktop-first workflow, has been renamed to Lightroom Classic CC. Lightroom Classic CC is also getting several new updates. It is gaining an enhanced Embedded Preview workflow for scrolling through large sets of photos faster than before, and new editing capabilities like a new Color Range and Luminance Masking feature.
With the launch of the Lightroom CC Cloud Photography service, Adobe is introducing new pricing plans. The Lightroom CC Cloud service with 1TB of storage plus Photoshop CC and access to Lightroom for mobile and web is priced at $19.99 per month. For existing Photography subscribers, Adobe is dropping that price to $14.99 per month for the first year.
Adobe is adding Lightroom CC to the existing Creative Cloud Photography plan and providing current subscribers with 20GB of storage space. The plan will continue to cost $9.99 per month and includes Lightroom CC, Lightroom mobile, Lightroom web, Lightroom Classic, and Photoshop CC.
A standalone Lightroom CC plan is available for customers who don't need Photoshop access. It includes 1TB of storage and access to the mobile and web apps for $9.99 per month. For mobile only users, there's a Lightroom Mobile plan for iOS that offers 100GB of cloud storage for $4.99 per month.
More information about Adobe's New Lightroom CC Cloud Photography service can be found on the Adobe website.