iMac Pros With Custom Xeon Chips Possibly Appear on Geekbench Ahead of December Launch
While the iMac Pro doesn't launch for another six weeks or so, possible benchmarks for the computer may have already surfaced on Geekbench. The results provide us with an early look at just how powerful Apple's $4,999-and-up desktop workstation will be when it is released in December.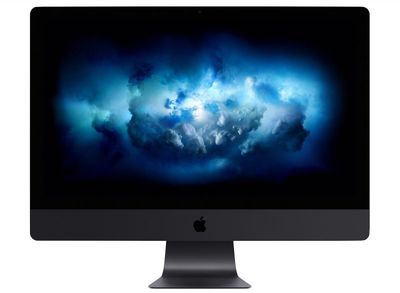 Interestingly, the iMac Pro models benchmarked appear to have custom, downclocked Xeon chips that Intel hasn't publicly announced yet. There is a benchmark result for a model with a 3.2GHz 8-core Xeon W-2140B processor, while a third listing exists for a model with a 3.0GHz 10-core Xeon W-2150B chip.
All of the models are identified as "AAPJ1371,1," and unlike other Xeon chips, the processors have a "B" suffix. A few of the benchmark results are from late August, while the rest are from October.


MacRumors spoke with Geekbench founder John Poole, who speculated that the iMac Pro may require chips with lower thermal design power, and thus lower frequencies, due to its all-in-one form factor. He noted that the other chips in the Xeon Processor W family have relatively high TDPs of up to 140W.
The multi-core Geekbench score for the 8-core model averages out to 23,536, which is the highest performance of any iMac ever. It's nearly 22 percent faster than the latest 5K iMac equipped with a maxed-out 4.2GHz quad-core Core i7 processor, which has an average multi-core score of 19,336.
The higher-end 10-core iMac Pro has a multi-core score of 35,917, which is roughly 41 percent faster than the latest Mac Pro maxed out with a 2.7GHz 12-core Xeon E5 processor. Even its single-core score of 5,345 is faster than all but the highest-end 5K iMac released earlier this year.
All in all, the benchmarks point to the iMac Pro being unsurprisingly powerful from top to bottom. And that's not even looking at the 18-core iMac Pro, which hasn't been benchmarked yet and will surely blow every other Mac out of the water—at least until the modular Mac Pro is ready.
Apple said the iMac Pro will also feature top-of-the-line Radeon Pro Vega graphics, up to 4TB of SSD storage, and up to 128GB of ECC RAM. The computer will share the same design as the standard iMac, but with an all-flash architecture, a new thermal design, and four Thunderbolt 3 ports.