iOS Gained Market Share in Most Countries This Summer, Although Samsung Drove Gains for Android in UK
Apple's portion of the mobile ecosystem market increased in eight major territories in the three months ending August 2017, according to new data collected and shared by Kantar Worldpanel. Over the summer of 2017, iOS saw growth in the following territories compared to the same year-ago period: Spain (4.4 percentage point increase), followed by China (4.3), the United States (3.7), Germany (2.3), France (1.7), the European Union (1.2), Australia (0.9), and Italy (0.4).
Specifically, iOS grew from 31.3 to 35 percentage points year-over-year in the U.S., and although Android still dominates the U.S. smartphone OS market at 63.2 percentage points, it has dipped slightly from its hold of 66.1 percentage points in the same year-ago period. Dominic Sunnebo, Kantar Worldpanel ComTech's Global Business Unit Director, said that "Apple maintained strong momentum in the US one month before the release of iPhone 8 and iPhone 8 Plus," so iOS should continue to see positive growth in future data that measures the holiday months.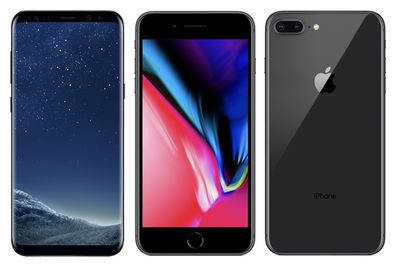 Galaxy S8 compared with iPhone 8
However, Apple's iOS decreased slightly in the United Kingdom/Great Britain in the summer months this year. The drop in iOS market share is said to be due to Samsung's "significant" promotional activity for its Galaxy S8 and J3 smartphones eating into Apple's pre-iPhone 8 sales. In total, Apple devices running iOS accounted for 33.9 percentage points during this summer period in the UK, dropping 2 percentage points from 35.9 one year prior.
Although this was "offset slightly" by strong sales of the iPhone SE, Samsung itself saw a 6.4 percentage point increase in the June-August 2017 period in the UK. Overall, Android OS grew from 58.9 in 2016 to capture 65.3 percentage points in the three month period. Of course, once Apple's sales of new iPhones are accounted for in future data by Kantar Worldpanel, iOS should see a resurgence.
A few Galaxy S8 owners mentioned both promotional materials put out by Samsung and a "good deal" on the device as key factors to their purchases. At the time of its launch, Samsung said the S8 marked its "best ever" pre-order period for a smartphone.

"Samsung took full advantage of the weeks just before the iPhone 8 and iPhone X were released in Great Britain, with significant promotional activity that helped drive its overall share to a three-year high of 38.4% for the three months ending August 2017," explained Dominic Sunnebo, Global Business Unit Director at Kantar Worldpanel ComTech. "More than one in four Galaxy S8 buyers cited a specific promotion as a key purchase influencer, and almost half said that a good deal on the price of the phone was key to their purchase. Both of these metrics experienced a large increase over the last two months of the period."
Otherwise, the only other regression centered in Japan and accounted for just 0.1 percentage points lost by iOS between 2016 and 2017.

iOS market share is expected to see another boost thanks to the launch of the iPhone X, which has caused
many people to put off ordering the iPhone 8 and iPhone 8 Plus
in anticipation of Apple's greatly redesigned smartphone. Pre-orders for the device go up two weeks from today on October 27, while the official launch date will come three weeks from today on November 3.
For more data on the global market shares of smartphone operating systems, check out Kantar Worldpanel's research right here.