Here's How Much the Inside of an iPhone Has Changed in Ten Years
Bloomberg has partnered with iFixit to provide a high-resolution look at how the inside of the iPhone has changed since first launching a decade ago.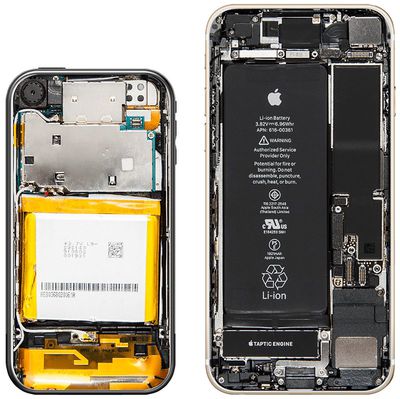 The original iPhone on left vs. brand new iPhone 8 via Bloomberg
The original iPhone, above left, is equipped with a bulky, yellow lithium-ion battery rated for 1,400 mAh. Apple said that was good enough for up to eight hours of talk time, six hours of web browsing, seven hours of video playback, or 24 hours of audio playback, but real-world results certainly varied.
In the top-left corner sits a 2-megapixel rear camera that lacks an LED flash and shoots photos that are unequivocally blurry by today's standards.
While shielding covers many of the other components, the original iPhone is equipped with 4GB, 8GB, or 16GB of storage, a single-core ARM11 processor downclocked to 412 MHz, just 128MB of RAM, and a PowerVR MBX Lite graphics processor. It also has Bluetooth 2.0 and 802.11b/g Wi-Fi chips.
The original iPhone supports EDGE cellular networks, often referred to as 2G. The technology is so outdated that AT&T, which was the exclusive carrier of the device in the United States, doesn't even operate a compatible network anymore.
Other hardware in the original iPhone includes a 3.5-inch display with a resolution of 320×480 pixels, a mechanical Home button, and a deeply recessed 3.5mm headphone jack that was hard to use. The device's iPod-like 30-pin dock connector was succeeded by the Lightning connector in 2012.
By comparison, the iPhone 8 has a tall, slim battery rated for 1,812 mAh, a 12-megapixel rear camera, up to 256GB of storage, 2GB of RAM, a six-core A11 Fusion chip, Bluetooth 5.0, 802.11a/c Wi-Fi, and LTE Advanced. It has a Lightning connector, a capacitive Home button, and no headphone jack.
The inside of an iPhone has looked similar since the iPhone 4, while the iPhone 3G and iPhone 3GS below look noticeably different.

iPhone 3G on left vs. iPhone 3GS on right via Bloomberg
While we've already seen the inside of every iPhone model thanks to iFixit's teardowns over the years,
Bloomberg
's full
feature article
provides high-resolution photos and is worth a look for iPhone aficionados.