Tim Cook Thinks Retailers Will Find Augmented Reality as Key as Having a Website
Apple CEO Tim Cook believes there isn't any sector or industry that will be untouched by augmented reality going forward.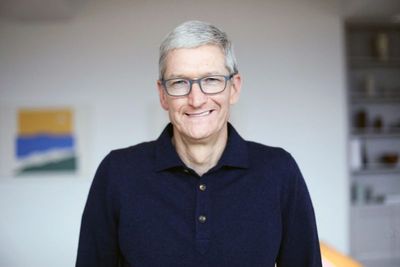 Tim Cook via Alastair Nicol for Vogue
In a recent interview with
Vogue
, Cook said he believes the technology will transform everything from fashion runway shows to shopping.
"If you think about a runway show in the fashion world, that's a great application of AR because some of these, you want to see the dress all the way around, you do not want to just see the front." That kind of experience is all the more important now that runway shows are catering to a wider consumer audience watching online, and not just those seated in the front rows, he added.
Apple's chief envisions a world where customers will essentially be able to "point and buy" products. If your friend is wearing a pair of shoes you like, for example, you could point your iPhone at them, and a shopping app could instantly bring up information about the pair with the option to purchase them online.
"We don't have a plan to collect all of these objects, but I know companies who are working on that for their products," Cook said. "If you think about companies that offer a fair number of shoes, and [if a customer] sees a shoe and goes I want that one, you just want to point and [buy]. That will be a part of the shopping experience of the future, it absolutely will."
Cook is so confident in augmented reality's future that he believes the technology will become "as key as having a website" for brands.


Some retailers have already implemented augmented reality features using Apple's new ARKit platform on iOS 11. IKEA, for example, has released an app called IKEA Place that lets you virtually place furniture in your home, with true-to-scale models of everything from sofas and armchairs to footstools and coffee tables.
Cook thinks the current selection of augmented reality apps is only the very beginning of what's to come in the years ahead.
In one early ARKit demo, for instance, a woman is able to virtually try on various shades of lipstick and quickly choose her preferred color.


Later in the video, the woman browses a virtual aisle of images of herself with various cosmetics digitally applied, making her selection a much simpler process than the traditional hassle of physical makeup application.
Cook also said that the technology needed for augmented reality glasses "doesn't exist to do that in a quality way," suggesting that widely rumored
Apple Glasses
won't be released "any time soon."
"There are rumours and gossip about companies working on that, and we obviously don't talk about what we work on. But today I can tell you that the technology itself doesn't exist to do that in a quality way," Cook said. "We don't give a rats about being first, we want to be best in creating people's experiences. Something that you would see out in the market any time soon would not be something that any of us would be satisfied with."
Cook's sit-down discussion appears to be the same one that The Independent covered earlier this week.
Full Interview: Apple's Tim Cook On The Future Of Fashion & Shopping