Racing title F1 2017, the official game of the 2017 Formula One World Championship, is available for purchase and download from the Mac App Store starting today.
Published by Feral Interactive, F1 2017 was released for Mac in August, but has previously only been available from the Feral Store and Steam, with the Mac App Store taking longer to release.
F1 2017 is based on the 2017 Formula One season and offers access to all 24 circuits, 20 drivers, and 10 teams that are competing this season.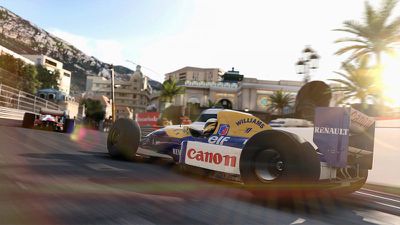 Players can choose from several unique Championship races to play, including the official 2017 FIA Formula One World Championship, the Classic All-Weather Championship, and the super-accessible, race-only Sprint Championship.
The game is the ninth F1 in the series, and this new version brings an expanded team management mode, giving players additional control over the research and development of new car parts.

Win the 2017 World Championship and race some of the fastest and most iconic F1TM cars of the last 30 years.

F1 2017 grants unprecedented access to not only the on-track excitement of F1, but also the off-track dealings and vehicle development that goes along with it. The ten-year Career Mode includes practice programmes to help hone your skills, an expansive Research and Development tree to provide greater control over the development of your car, and the ability to manage engines and gearboxes over the course of the season.
F1 2017 requires a 2.0GHz Intel Core i5 processor, 8GB RAM, 2GB AMD R9 M290 or 1.5GB Intel Iris Pro 6200 graphics or better, and 36GB of disk space, at minimum. Feral says the game is supported on the following Mac models:
All 13" MacBook Pros since late 2016
All 15" MacBook Pros since late 2016
All 21.5" iMacs since late 2015 with a 2.0GHz Intel Core i5 processor
All 27" iMacs since late 2014
All Mac Pros since late 2013
F1 2017 can be downloaded from the Mac App Store for $49.99. [Direct Link]