Adobe today released new versions of Photoshop Elements and Premiere Elements, the company's more affordable photo and video editing software aimed at casual home users who want to improve their images and videos.
Both Photoshop and Premiere Elements 2018 offer a range of new tools and enhancements to existing features to streamline and improve the editing process.
Photoshop Elements 2018 offers a new Automatic Selection tool for detecting objects to make it simpler to remove a subject from its background, and there's a new feature for automatically fixing photos where a person has closed eyes by copying the eyes from another photo and blending it in seamlessly.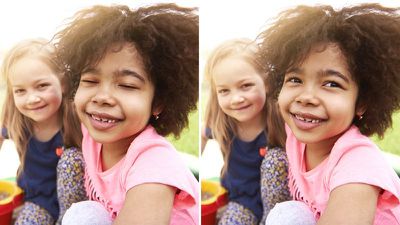 A new Auto-Curate feature in the Adobe Elements Organizer allows it to detect and highlight your best photos. It intelligently analyzes photos using parameters like exposure, composition, focus, subject, and more.
Auto-Curate is able to recognize faces and surface photos that contain people, and it's even able to recognize family members photographed often over strangers to recommend the best photos for editing.


Premiere Elements 2018 includes a new feature called Candid Moments for automatically extracting photos from raw video footage, while a customizable Smart Trim option detects and eliminates bad scenes from a video. There are also better organizational tools for finding all of the videos on your computer.
With an updated Slideshow feature, curated photos and videos in both Premiere and Photoshop Elements can be turned into dynamic slideshows with a single click, and there are easy-to-use options for choosing a theme, adding music, and integrating captions.
For those who are new to Photoshop and Premiere Elements, Adobe offers a range of Guided Edits that walk users through editing tasks. There are many existing Guided Edits, and today's software release adds even more options.
In Photoshop Elements, Swap Backgrounds lets users select the subject of a photo and change out the background in just a few steps, while Create Double Exposures lets two photos be layered on top of one another.


Add Artistic Overlay Effects lets users add a shape overlay like a heart that highlights one section of an image, while Watercolors walks users through transforming a photo into a watercolor painting.
In Premiere Elements, there's a Guided Edit for creating a bounce-back effect that lets a segment of video run forward and backward in quick succession (a Boomerang-style effect), and there's an option for adding a freeze frame with an accompanying motion title.
For fisheye video captured with action cams like the Go Pro, there's a tutorial for trimming and fixing lens distortion, and there's a walkthrough for creating a quick animated video that can be shared on social media networks.


Photoshop and Premiere Elements 2018 are available for purchase for $99 each from the Adobe website starting today. Bundles are available for $149.99, and existing users can upgrade for $79.99 for one product or $119 for the bundle. Adobe is changing its Premiere and Photoshop naming scheme this year, so Premiere and Photoshop Elements 2018 are the follow-up to last year's Premiere and Photoshop Elements 15.