Eight Apple executives this week received 125,494 shares of stock each after restricted stock units or RSUs first awarded in 2014 vested. Apple issues RSUs, which vest after a set amount of time so long as an employee stays with the company, to its executives as bonus compensation.
Luca Maestri, Craig Federighi, Eddy Cue, Angela Ahrendts, Jeff Williams, Bruce Sewell, Phil Schiller, and Dan Riccio all received the stock awards, worth over $19 million at Apple's current price.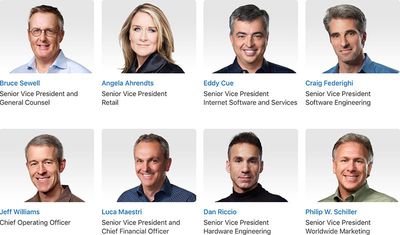 The amount of stock each received was based on Apple's total shareholder return (TSR) relative to other companies in the S&P 500 from September 28, 2014 through September 30, 2017. Apple's TSR during that period was 65.53 percent, which gave it a ranking of 92nd out of the 451 companies in the S&P 500.
That placed Apple in the 80th percentile, so 125,494 RSUs vested. Had Apple's ranking been in the 85th percentile, the executives would have seen a larger reward as 200 percent of the target 68,576 RSUs would have vested.
Over 62,000 shares were withheld by Apple from each distribution to satisfy the tax withholding requirements of vesting RSUs.