Over Half of Prospective iPhone X Buyers Surveyed Plan to Choose 256GB Storage
iPhone X with 256GB storage is the most popular device among prospective smartphone buyers, according to a survey conducted by RBC Capital Markets.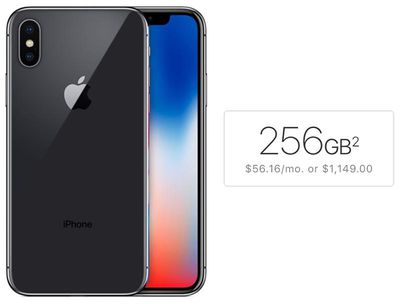 Of the 832 individuals surveyed, 28 percent said they plan to purchase iPhone X as their next smartphone. An additional 20 percent of respondents said they intend to buy iPhone 8 Plus, while 17 percent will go for iPhone 8.


The remaining 35 percent of consumers plan to purchase an older model, ranging from iPhone 6s to iPhone 7 Plus.
RBC Capital Markets said 43 percent of prospective buyers interested solely in a new iPhone are looking to purchase an iPhone X, while 32 percent favor iPhone 8 Plus, but no accompanying chart was provided for this data.
A majority 57 percent of respondents who plan on purchasing iPhone X will opt for the 256GB model, which costs $1,149 in the United States. 43 percent said they will buy the 64GB model for $999.


By comparison, 50 percent of iPhone 7 respondents last year opted for 128GB, which was the middle tier between 32GB and 256GB.
RBC Capital Markets analyst Amit Daryanani:
Interestingly, Apple has removed the middle-tier storage option from iPhones. We think that given increasingly greater storage requirements, most of mid-tier storage users will move towards the higher tier.
46 percent of a larger pool of 4,196 respondents said wireless charging is iPhone X's most attractive feature.


Overall, RBC Capital Markets expects strong demand for iPhone X, which should increase Apple's average selling price for iPhones in general. The investment bank remains upbeat about Apple's stock, with a price target of $180.
iPhone X pre-orders start Friday, October 27. The device launches Friday, November 3.