Apple Investigating Two Possible iPhone 8 Plus Battery Failures
Apple is investigating after two iPhone 8 Plus owners shared pictures of the device burst open due to possible battery failure.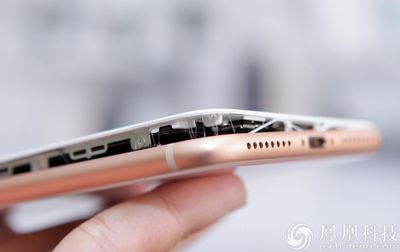 iPhone 8 Plus burst open due to possible battery failure via iFeng
"We are aware and are looking into it," an Apple spokeswoman confirmed to MacRumors.
The first customer is reportedly a Taiwanese woman, who said her iPhone 8 Plus burst open despite charging with an official Apple power adapter. Chinese media sites reported that the device has been returned to Apple, as part of its routine investigation of these isolated incidents every year.
A second customer from Japan shared a picture of an iPhone 8 Plus with the display assembly detached from the device's aluminum enclosure.

In both cases, it appears that the battery may have swelled due to gases inside. The expansion then placed too much pressure on the display, causing it to pop open, which may actually help avoid a fire.
No Need to Worry
With millions of iPhones coming off of Apple's production lines every time new models launch, it's common for a few to have battery failures.
It's simply an inevitability with lithium-ion batteries.
It happened with some iPhone 7 models, and it'll probably happen with iPhone X and whichever models come after.
It's only when reports of battery failure become a larger trend, as Samsung learned the hard way after dozens of Galaxy Note 7 devices caught fire last year, that it truly becomes a problem.
Update: A third iPhone 8 battery failure is being reported in Hong Kong.