Apple 'Inundated' With Spec Scripts and TV Projects for Continued Push Into Prestige Dramas
Apple executives Zack Van Amburg and Jamie Erlicht, formerly of Sony Television, have spent the last few weeks visiting agents and studio executives in Hollywood, spearheading Apple's ongoing attempts to land "big, smart, splashy dramas" in the vein of Game of Thrones and Breaking Bad. In a new profile on Apple's ambitions by The Hollywood Reporter, multiple studio chiefs are said to be sending Apple spec scripts and packaged projects as potential options for its big break into the premium TV show space.
Apple is reportedly not interested in spending money at the scale of a rival like Netflix (around $6 billion each year on original content), but multiple reports over the past few months have shown the company's gaining interest in both original "prestige" TV content and major film distribution deals, and that momentum has only picked up in recent weeks.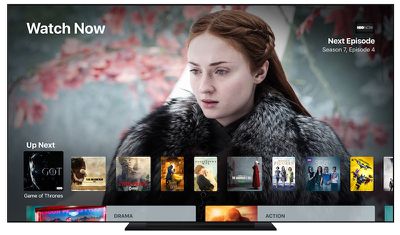 In recent weeks, Zack Van Amburg and Jamie Erlicht, poached from Sony Television in June to spearhead Apple's content acquisitions and video strategy, have been spotted all over town making their pitch to agents and studio executives. One studio chief says, "Who wouldn't want to be the 'Mad Men' or 'House of Cards' on Apple?"

"There's this sense of, 'It's the most innovative company in the world, of course you want to have a show there,' " says UTA TV head Matt Rice, whose agency, like many of its peers, has inundated the industry's hottest new entrant with spec scripts and packaged projects. Apple, which is famously secretive about its plans, declined to comment for this story.
Apple's newly leased property at the iconic California production site, The Culver Studios, is said to have helped the company "leap-frog" much of the Hollywood competition, with a handful of agents commenting that any project they would take to Netflix or HBO is also being delivered to Apple as well. Apple's so-called "overnight status" as a major player in the business is said to be due to the company's built-in branding, as well as its deep pockets of cash reserves that could be tapped into for the TV drama push.
Some projects have already been lost by Apple's content team, however, including an origin series for One Flew Over the Cuckoo's Nest focused on Nurse Ratched, created by Ryan Murphy and starring Sarah Paulson. Netflix eventually outbid both Apple and Hulu for the show, as well as the ongoing streaming rights for Murphy's American Horror Story anthology series (with new episodes also streamable on Hulu).
Apple is still being "deluged with nearly every script in town," but sources said that Van Amburg, Erlicht, and the rest of Apple's team have passed on most of them, in attempts to keep Apple's penchant for quality alive in its TV shows as well. The team has bids out on a few projects, however, including a reboot of Steve Spielberg's 1980 anthology series Amazing Stories, and a morning show drama starring Jennifer Aniston and Reese Witherspoon.
Other potential partners with Apple include Vince Gilligan, Bryan Cranston, Ron Moore, Ryan Coogler, Mike Schur, and more, who have all been approached by Apple's team recently in some form. The ultimate question, according to talent agency ICM Partners, is finding out where -- and how -- these shows will be streamed.

Still, the lack of clarity has left at least a few, including ICM Partners managing director Chris Silbermann, asking tough questions. "Jamie and Zack are good guys, and they've done business with all of us for decades, and it's Apple, so everybody will sell there," he says. "That being said, they need to articulate to the creative community and the industry at large their marketing, release and distribution strategy. Simply, what does it mean to be an Apple show?"
Check out The Hollywood Reporter's full article on Apple's TV strategy right here.