Some Mac owners who have replaced their machine's storage with Aura SSDs from OWC are not able to install macOS High Sierra at this time due to an incompatibility issue that prevents the update from successfully converting the drives to the new APFS format.
The Aura SSDs show up as "Rotational" drives instead of Solid State, and when attempting to install macOS High Sierra, users are seeing an error message about a firmware update before the installation process crashes.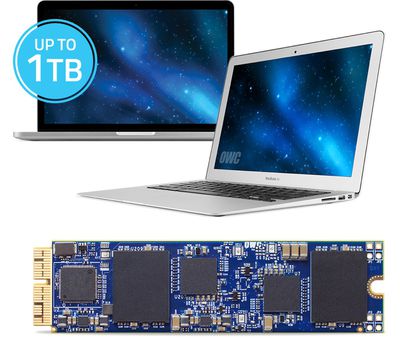 Several customers who have purchased Aura SSDs have complained on a macOS High Sierra beta blog post, as the issue long pre-dates the macOS High Sierra release. One customer was told that new firmware would not be developed until the High Sierra golden master was released, but new firmware has apparently not made it out yet.
OWC offers Aura SSDs for a range of Macs, including many MacBook Air, MacBook Pro, and Mac Pro models. According to the company, Aura SSDs compatible with the following machines are affected:
- MacBook Air (11-inch, Mid 2013)
- MacBook Air (13-inch, Mid 2013)
- MacBook Air (11-inch, Early 2014)
- MacBook Air (13-inch, Early 2014)
- Mac Pro (Late 2013)
Apple is aware of the issue with select third-party SSDs, and the OWC engineering team is working directly with Apple on a fix. OWC expects "a very timely solution."