iPhone 8 Teardowns Reveal Advanced Modems Likely Selected for Power Improvements
Apple released the iPhone 8 and iPhone 8 Plus on Friday, September 22, and device teardowns were underway within hours, courtesy of iFixit and TechInsights. The firms received different models for teardown, with iFixit's model featuring a Qualcomm baseband while TechInsights' featured an Intel modem, continuing Apple's trend of opting for Intel modems in phones which do not require CDMA network support.
The baseband parts in each iPhone were revealed to be new chips from their respective vendors, with the CDMA phone featuring Qualcomm's new X16 gigabit-class modem and the Intel-based model featuring the similarly new XMM 7480 modem. Each model also included an update to the transceiver module to go along with the modem, but the functional changes in the RF signal chain mostly stopped there.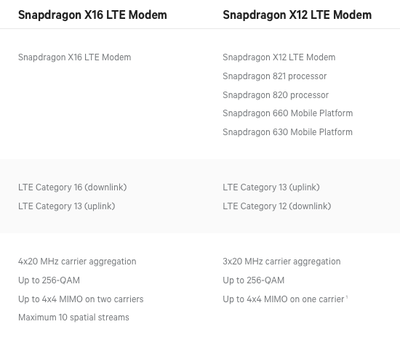 Qualcomm X16 and X12 feature comparison
In addition to higher peak speeds compared to their predecessors, both of these modems offer other potential benefits. Comparing the network compatibility pages of the
iPhone 7
against the
iPhone 8
shows that the bands supported are largely unchanged, and this is reflected in the small changes to the power amplifier modules (PAMs) found within the RF chain.
Besides gigabit-level peak theoretical speeds, the X16 modem brings several other advances, including up to 4x carrier aggregation for a total bandwidth of up to 80 MHz compared to the 60 MHz found in the MDM9645M (X12) powering the iPhone 7. Qualcomm's X16 modem also supports T-Mobile US's new 600 MHz LTE spectrum, Band 71. Apple does not list support for Band 71 on the model sold for use on T-Mobile, which means that either Intel's modem does not support it for the appropriate T-Mobile model or Apple elected not to include support for it in the phone's antenna/PAM structure.

Intel's XMM 7480 feature highlights
The Intel XMM 7480, by contrast, only has a maximum theoretical peak of 600 Mbps, and while it also supports up to 4x carrier aggregation, two of these channels are limited to 10 MHz, capping overall bandwidth at 60 MHz. Intel has boosted its band support to a total of more than 33, claiming an industry leading number, but there are likely other deficiencies compared to the Qualcomm modem which have been accepted due to Apple's desire to have supplier diversity for this component.
Regardless, it is clear that both of these modems are improvements over their predecessors, yet Apple dedicated no time to talking about advanced cellular capabilities for any of its phones in the media event earlier this month. Instead, the main reason for upgrading to these new modems likely lies in power consumption.
The teardowns have revealed that Apple has reduced the size of the batteries in the iPhone 8 lineup while maintaining battery life claims across the board. The squeeze on the iPhone X will be even worse, given Apple's claims of iPhone 8 Plus-like battery life in a non-Plus type form factor. While there are several other advancements likely behind the scenes there, it seems clear Apple wanted to get more efficient in its cellular radio chains.
This will also be an area to watch in the iPhone X, as the cellular RF chain is one of the biggest consumers of space in the phone. According to its spec page, the iPhone X will support the same bands across two models as its 8-branded brethren, so space may have to come from elsewhere.
The advancements in baseband modem power efficiency likely come from two different sources for Qualcomm and Intel. The X16 is built on a 14nm FinFET process according to Qualcomm, which likely has several advantages over the 28nm RF process utilized in its previous modems.
Intel, on the other hand, claims up to 15 percent lower power usage compared to its previous-generation modem, which could be thanks in part to the newly included envelope tracker for voltage control, which reduces power usage and heat. While it is not clear which process Intel's modem is built on, it seems likely it is still a 28nm process from TSMC, as Intel still works on the technology lineage from its Infineon acquisition. Nevertheless, future iPhones will be well-positioned to include higher bandwidth and more diverse network capabilities in the future, even if the modems they use stay the same.