Apple TV 4K Teardown Reveals 3GB of RAM and Larger Venting System With Replaceable Fan
iFixit has shared an Apple TV 4K teardown, providing a closer look at the device's internal design and components.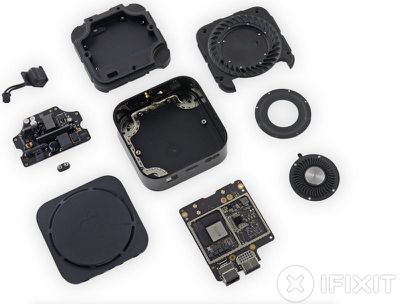 We already know the Apple TV 4K is equipped with Apple's 64-bit A10X Fusion chip, and now the teardown confirms the device has a total of 3GB of LPDDR4 RAM supplied by SK Hynix. That's up from 2GB RAM in the previous Apple TV.

1GB + 2GB of LPDDR4 RAM outlined in yellow for a total of 3GB of RAM
The new power supply is rated for 12V at 1.083A, a modest increase over the 12V at 0.917A power supply in the previous Apple TV.
According to the teardown, Apple merged the new fan with the heat sink/EMI shield assembly from the fourth-generation Apple TV to create a larger thermal assembly for cooling and ventilation.


iFixit said the bottom of the unit has been redesigned with a total of eight exhaust ports and a new, replaceable fan driven by a Nidec brushless motor.
Beyond the return of a Gigabit Ethernet port and the removal of the USB-C diagnostic port, which we learned about before the teardown, the Apple TV 4K's design is largely the same as the previous Apple TV.

Apple TV 4K has no USB-C port
iFixit gave the Apple TV 4K a repairability score of 8 out of a possible 10 points. The device is easy to open and has modular components, but they're soldered to the logic board, so board-level soldering or full board replacements are required.