iFixit Teardown Gives First Look at iPhone 8's Guts
iFixit purchased one of Apple's new iPhone 8 models in Australia, and has already started ripping it apart in one of the site's traditional teardowns.
Inside, the iPhone 8 looks a lot like the iPhone 7, but there are some notable differences, like the wireless charging coil that enables Qi-based inductive charging.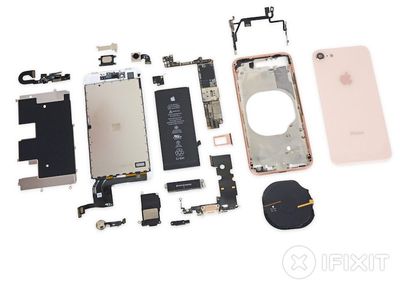 The iPhone 8 features an 1,821mAh battery, smaller than the 1,960mAh battery in the iPhone 7. Despite the change, the iPhone 8 continues to offer the same battery life as the iPhone 7 due to processor improvements. Battery capacity was first unveiled last week, but has now been confirmed.


Included on the logic board is the A11 Bionic chip, which is layered over 2GB of SK Hynix LPDDR4 RAM. There's also a Qualcomm MDM9656 Snapdragon X16 LTE modem and an NXP 80V18 Secure NFC module, among other chips.


Other small tweaks and changes in iPhone 8 include a new Lightning port bracket that seems to reinforce it, a new interconnect/antenna cable over the speaker that iFixit calls "strange," a lack of gaskets on the pentalobe tabs used for the display, no tri-point screws holding down the display cable bracket, and additional adhesive strips holding the battery in place.
iPhone 8 and iPhone 8 Plus launched today at Apple retail stores in the United States and other first wave launch countries, coinciding with the first deliveries to customers.