Apple Watch Series 3 Reviews: Freedom From iPhone Held Back by LTE and Battery Life Concerns
Apple Watch Series 3 reviews are out, and the verdict is mixed about its new built-in cellular capabilities and the impact on battery life.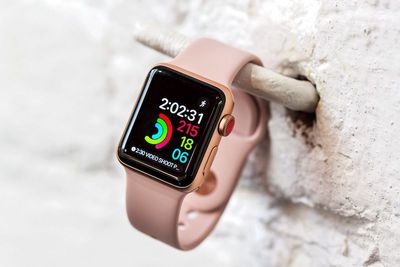 Apple Watch Series 3 via The Verge
The Verge
editor Lauren Goode said her Apple Watch Series 3 largely "failed at the LTE part," particularly due to an issue where the watch would connect to an unknown Wi-Fi network instead of LTE.
You can't rest easy with the Apple Watch 3 yet, because that seamlessness, that so-called magic, isn't there. The stutters during the handoff from Bluetooth to Wi-Fi to LTE shouldn't happen. The music streaming? It isn't there yet. A built-in podcast streaming option? Also not there. A reliable Siri? Nope, not in my experience.
Apple acknowledged the issue and said it is investigating a fix that will be included in a future software update.
Goode said the one aspect "worth two thumbs up" is watchOS 4, especially for its improved heart rate tracking.
But the watchOS 4 updates to heart rate tracking are really the most noteworthy. Any Apple Watch with heart rate sensors will now record your resting heart rate, your average walking heart rate, your recovery heart rate, and, if you opt in, any spikes in heart rate that occur when the Watch thinks you're not working out.
TechCrunch editor Brian Heater said the Apple Watch Series 3's cellular capabilities are "a bit liberating," but he didn't find many scenarios where having a standalone connection was particularly useful.
All nice functionality to have on the go, but in the days I've been wearing the watch, I've been straining to come up with many scenarios in my own life outside of running where untethering myself from my phone is necessary — or even particularly useful.
The Wall Street Journal columnist Joanna Stern said her Apple Watch Series 3's cellular connection was "unreliable" and "intermittent."
Most worryingly, my colleague Geoffrey Fowler and I experienced cellular connectivity issues on three separate pre-production models, in two different states, on two different 4G LTE carriers.

On the AT&T-connected models, the cellular connection dropped, calls were often choppy and Siri sometimes failed to connect. On the one that ran on T-Mobile, I experienced several dropped connections.
Stern added that "you're lucky if the battery allows you to roam on cellular for longer than half a day—especially if you're making calls."
The Sydney Morning Herald's Peter Wells didn't share that viewpoint, calling battery life on the Apple Watch Series 3 "excellent."
Battery life on the Series 3 is excellent. The Watch cleverly defaults to the most efficient connection available; when nearby your phone it'll use bluetooth, move away from the phone and it'll switch to any available known Wi-Fi networks, disconnect from those and LTE will take over. In my usual day, that meant by the time my Watch was back on a charger at night, it still had around 70 per cent battery left.
Daring Fireball's John Gruber was impressed with the Apple Watch's phone call audio quality and didn't mention any connectivity issues.
Audio quality for phone calls on the watch is very good. People I called via the watch said I sounded great, and I could hear them loud and clear. And all of my testing of phone calls on the watch took place mid-day on busy city streets — full of traffic and pedestrians — here in Philadelphia. People won't know you're calling them from your watch if you don't tell them.
The New York Times reporter Brian X. Chen said the Apple Watch Series 3 is the first smartwatch he can recommend people buy.
Although I think most people can skip buying the cellular model, the Apple Watch Series 3 is the first smart watch I can confidently recommend that people buy. While I don't personally find it attractive enough to replace my wristwatch, the new Apple Watch is a well-designed, durable and easy-to-use fitness tracker for people who want analytics on their workouts and general health (R.I.P., Fitbit).
Wired writer David Pierce said the Apple Watch 3's performance "feels dramatically better than any previous Watch."
More Reviews: The Loop, CNET, Financial Post, 9to5Mac, Mashable, The Independent, and USA Today