Drag and Drop Apps for iPad Now Widely Rolling Out on App Store
iOS 11 brings systemwide drag and drop to iPad, providing users with a quick way to move text, images, files, and more from one app to another.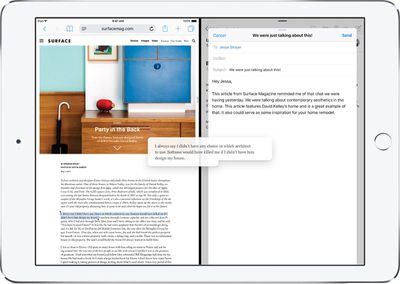 Over the past few days, leading up to today's launch of iOS 11, a number of iPad apps have been updated to support the functionality.

Todoist
You can now drag text messages, URLs, emails, images, PDFs, files, and more into Todoist, a popular task management app for iOS.

Dropping in a project, label, or filter view will create a new task.

Dropping in the comment screen will start a new comment pre-populated with the relevant information.

Dropping in the Quick Add button will start a new task pre-populated with the relevant information.

Todoist is free on the App Store [Direct Link] with the option to upgrade to Todoist Premium for $28.99 per year.

Zipped
Eytan Schulman, a three-time WWDC Scholarship winner, is releasing a modern archiving utility called Zipped with drag and drop support.
iPad users can simply drag and drop files onto Zipped's cardboard box icon to zip/compress or unzip/uncompress them.

Quickly open a ZIP file and selectively share or save the contents.

Files can be named manually or automatically.

Save your compressed or uncompressed files to the Files app on your iOS device, share them to any app, or send them via AirDrop.

Zipped currently supports the following file types, with more to come: zip, .png, .jpg, .html, .pages, .docx, .pdf, .numbers, .xlsx, .pptx, .rtf, .txt, .mp4, .mov, .aiff, .mp3, .wav, .psd, .caf, .md, .csv, .json, and .js.

Zipped should be available on the App Store [Direct Link] for 99 cents later today or by tomorrow at the latest.

1Password
You can now drag and drop your 1Password-generated username and password right into login fields while in Split View.


You can also drag and drop other items like credit card numbers and contact information from 1Password into web fields.
1Password is free on the App Store [Direct Link]. A subscription costs $3.99 per month or $35.99 per year.

Others
join.me
Related: How to Use Drag and Drop on an iPad and iPhone With iOS 11