Ming-Chi Kuo Says iPhone X Unlikely to Reach Supply-Demand Balance Until Next Year
While the iPhone X launches November 3, with pre-orders beginning October 27, reliable analyst Ming-Chi Kuo believes Apple's high-end smartphone won't achieve complete supply-demand equilibrium until next year.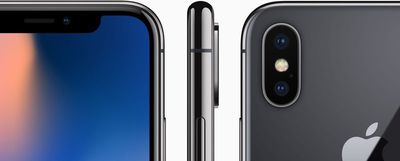 In his latest research note with KGI Securities, obtained by MacRumors, Kuo said customer demand for the iPhone X won't be fully met until at least the first half of 2018 due to supply constraints.
We believe the fullscreen design and facial recognition features will drive replacement demand for the iPhone X. However, due to supply constraints, we expect market demand won't be fully met before 1H18. We revise down our forecast for 2017F iPhone X shipments from 45-50 million to around 40 million units, but we therefore revise up our 2018 iPhone X shipment estimate to 80-90 million units.
In fewer words, getting an iPhone X in your hands may prove especially challenging this holiday shopping season.
In addition to supply constraints, Kuo said the reason why iPhone X pre-orders won't begin for another six weeks is likely because Apple doesn't want to cannibalize sales of the iPhone 8 and iPhone 8 Plus.
iPhone 8 and iPhone 8 Plus pre-orders began at 12:01 a.m. Pacific Time today. The devices launch Friday, September 22.
Earlier this week, Kuo said Apple's iPhone X production was less than 10,000 units per day, but the yield may be increasing as Apple ramps up mass production. He anticipated the iPhone X will remain in "severe short supply for a while."
Kuo also anticipated that a gold iPhone X would encounter some production problems and initially be available only in "extremely low volume," or launch at a later date, but Apple said the iPhone X comes only in Silver and Space Gray.
In today's research note, he said the lack of a gold color echoes his production concerns, but he didn't elaborate if he still thinks the iPhone X will eventually be released in gold like the iPhone 8 and iPhone 8 Plus.