iPhone 8 and Apple Watch Series 3 Pre-Order Shipping Estimates Begin Slipping
Pre-order supplies of the new iPhone 8 and iPhone 8 Plus are beginning to dwindle, with several new iPhone models now displaying shipping estimates beyond the September 22 launch date.
Space Gray T-Mobile and SIM free models in some capacities, for example, will not ship out for one to two weeks, and those shipping estimates could fall as people continue placing orders. T-Mobile stock in general seems to be selling out faster.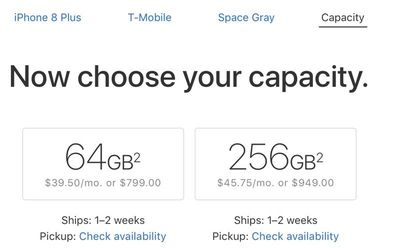 Apple Watch Series 3 supplies appear to have been limited, with some models, like the 38 and 42mm stainless steel watches listing shipping estimates of two to three weeks. Several Sport models have sold out, with the 42mm Space Gray Aluminum with Dark Olive Sport Sport Loop, 42mm Gold Aluminum with Pink Sand Sport, and 38mm Silver Aluminum with Seashell Sport Loop all listing shipping dates a few weeks out.


Apple started accepting pre-orders at 12:01 a.m. Pacific Time on Friday, September 15, and shipping estimates for the above mentioned products began slipping within about 20 minutes. Additional products could begin selling out soon, so it's best to place orders right away.
While pre-order supplies of some iPhone 8/8 Plus and Apple Watch Series 3 models are beginning to sell out, it may still be possible to get one of the new iPhones on launch day by visiting an Apple retail location on Friday, September 22. In fact, for some products with higher shipping estimates, in-store pickup is still available for launch day, but that could change quickly.
The iPhone 8 and the iPhone 8 Plus come in 64 and 256GB configurations with three color options: Gold, Silver, and Space Gray. In the United States, iPhone 8 pricing starts at $699, while iPhone 8 Plus pricing starts at $799. Apple Watch Series 3 pricing starts at $329 for non-LTE models and $399 for LTE models.