Apple Watch Series 3 Limited to 3G-Like Speeds on T-Mobile [Update: Now 4G LTE]
Apple's new Apple Watch Series 3 models support LTE and UMTS connectivity, but on T-Mobile, LTE connection speeds won't be available. The carrier is limiting the Apple Watch to a maximum speed of 512kb/s, which is more like a 3G connection than an LTE connection.
The speed limitation is noted in T-Mobile's fine print, which says the maximum wearables speed is 512kb/s. It's also noted on the pre-order page when adding an Apple Watch Series 3 to your cart.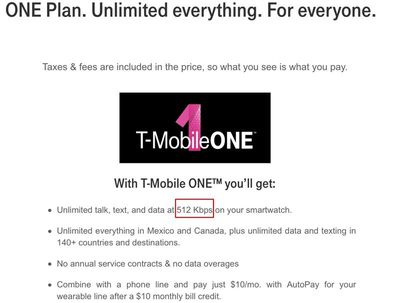 At issue is T-Mobile's ONE plan, which limits both tethering and all wearable devices to 512kb/s. While most users are unlikely to be streaming video or doing other tasks that require high connectivity speeds on the Apple Watch, the Apple Watch is also unlikely to be a data hog, so it's unclear why T-Mobile has this limitation in place.
A T-Mobile representative told MacRumors reader Tony that its "High Speed Data with paired DIGITS" plan would provide 4G LTE data. DIGITS is priced at $25 per month without autopay, and $20 per month with Autopay.
No other major carrier in the United States, including Sprint, Verizon, or AT&T appears to be throttling Apple Watch speeds with their standard unlimited plans.
All four of the carriers are charging the same $10 per month fee to add an Apple Watch to an existing iPhone plan, and each one is offering a limited time promotion that waives monthly fees for the first three months.
The LTE Apple Watch Series 3 models became available for pre-order early this morning, with new devices slated to arrive on Friday, September 22, the official launch date for the device.
Update: T-Mobile CEO John Legere says T-Mobile has changed its policy. The company will now offer unlimited 4G LTE on the Apple Watch Series 3.