Apple's Online Store Down Ahead of iPhone, Apple Watch, and Apple TV Pre-Orders
Apple has taken its online storefront down in order to prepare for the launch of the iPhone 8, the iPhone 8 Plus, the Apple TV 4K, and the new Apple Watch Series 3 models. Pre-orders are expected to begin at 12:01 a.m. Pacific Time or 3:01 a.m. Eastern Time on Friday, September 15 in the United States.
In other countries, pre-order times will vary. Pre-orders kick off at 5:01 p.m. in Sydney, for example, 3:01 p.m. in China, and 8:01 a.m. in the UK. Apple has confirmed the time for the iPhone 8 and Apple TV 4K launch, and while the company has not listed a pre-order time for the Apple Watch, orders for the wearable device is likely to begin at the same time.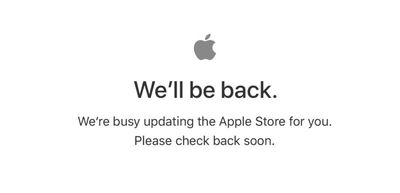 Pre-orders will be available through Apple's website, the Apple Store app, several carrier sites, and from major retailers like Target and Best Buy.
Apple will accept pre-orders for the iPhone 8 and 8 Plus in first wave launch countries including Australia, Austria, Belgium, Canada, China, Denmark, Finland, France, Germany, Hong Kong, Ireland, Italy, Japan, Luxembourg, Mexico, Netherlands, New Zealand, Norway, Portugal, Puerto Rico, Singapore, Spain, Sweden, Switzerland, Taiwan, UAE, the UK, the US and US Virgin Islands.


Customers planning to purchase an iPhone 8, Series 3 Apple Watch, or a 4K Apple TV should order early. There were rumors suggesting that supplies of the iPhone 8 and iPhone 8 Plus would be constrained alongside the iPhone X, and Plus models in particular are often in short supply. There's no word on whether supplies of the new Apple Watch might be limited.
The 4.7-inch iPhone 8 is available in 64 and 256GB capacities for $699 and $849 in the United States. The 5.5-inch iPhone 8 is also available in 64 and 256GB capacities for $799 and $949. For customers using Apple's iPhone Upgrade Program, pricing starts at $34.50 for iPhone 8 and $39.50 for iPhone 8 Plus.
Pricing on the Apple TV 4K starts at $179 for the 32GB model, and for the Apple Watch Series 3, LTE models start at $399 and non-LTE models start at $329.