Apple Retires (PRODUCT)RED iPhone 7 and iPhone 7 Plus Models
With the introduction of the iPhone 8, iPhone 8 Plus, and iPhone X, Apple has quietly discontinued its (PRODUCT)RED iPhone 7 and iPhone 7 Plus models. Apple's (PRODUCT)RED iPhone 7 and 7 Plus were first introduced in March of 2017, six months after the debut of the iPhone 7.
The two devices were released in celebration of more than 10 years of partnership between Apple and (RED), with proceeds provided to the Global Fund to prevent the spread of HIV/AIDS in Africa.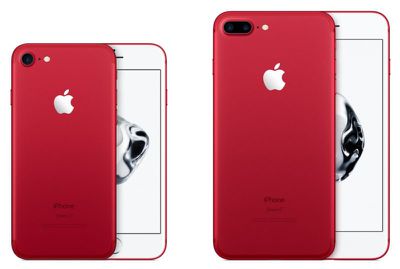 Though the (PRODUCT)RED iPhone 7 and iPhone 7 Plus have been discontinued, Apple is still selling the devices in Silver, Gold, Rose Gold, Matte Black, and Jet Black. Pricing on the iPhone 7 now starts at $549 for the 32GB model, while pricing starts at $669 for the 32GB iPhone 7 Plus.
Apple is offering the two devices in 32 and 128GB configurations, with the 256GB models having been discontinued alongside all (PRODUCT)RED devices.
While Apple is no longer offering a (PRODUCT)RED iPhone, the company continues to sell many (PRODUCT)RED accessories, including several that were introduced today. There are new 38mm and 42mm Ruby (PRODUCT)RED Apple Watch Classic Buckle bands for $149, and Apple has also introduced a new (PRODUCT)RED Leather Sleeve for the iPad Pro priced at $129, and a new (PRODUCT)RED Apple Pencil Case priced at $29.


A portion of the sales from Apple's entire (PRODUCT)RED accessory lineup is donated to the Global Fund, a charity that funds AIDS-related programs in Africa.