Elevation Lab made a name for itself with the ultra popular Elevation Dock, which was introduced in 2012 through a Kickstarter project that brought in over a million dollars.
Today, Elevation Lab is unveiling its newest dock, the ElevationDock 4, an amalgamation of everything the company has learned about docks over the course of the last five years.
ElevationDock 4 features a compact design that's meant to take up minimal space on a desk. Adjustment knobs allow it to fit an iPhone and a case that's up to 3.5mm thick, and it's designed to work one-handed, a feature few other docks can offer.


It has an 18° back angle with a +/-4° adjustment so the tilt can be changed for an ideal setup on a desk or nightstand, and the Lightning connector is designed to flex only under high torque to keep the iPhone stable and upright.
The dock is Made for iPhone certified and comes with a built-in Lightning cable. Construction wise, it features stainless steel adjustment knobs and a medical grade silicone overmolded body. It's available in Matte White with a 5-ft braided blue cord or Matte Black with a 5-ft dark braided cord.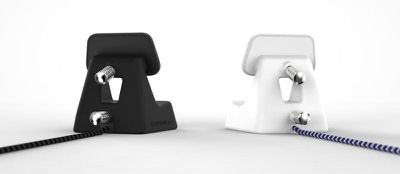 Because of its study construction and stable base, the ElevationDock 4 is compatible with both the iPhone and the iPad. It will work with iPads as large as the 10.5-inch iPad Pro.
ElevationDock 4 can be purchased from the Elevation Lab website for $59. Orders will start shipping out in two weeks.