Apple today announced its Northbrook Court store in Northbrook, Illinois, a suburb of Chicago, is moving to a new location within the shopping mall this weekend. The grand opening is set for Saturday, September 9 at 10:00 a.m. local time.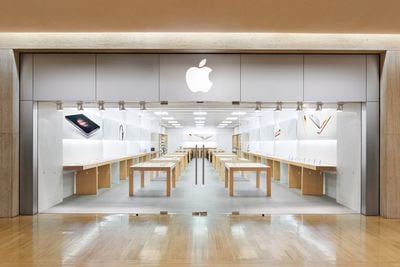 Apple's original store at Northbrook Court
The new store will be located across the hall on the lower level, between H&M and Banana Republic, according to property management GGP.
The current store, between Sephora and Finish Line, originally opened in July 2005. Friday will likely be its final day of business in that location.
The new store should be around 10,000 square feet, which is nearly double the size of the current store, according to Northbrook Court's leasing plan.
The new store will also be based on Apple's latest retail design, which typically includes wide, open spaces with some combination of large glass doors, sequoia wood tables and shelves, large video screens for Today at Apple sessions, and light boxes spanning the length of the ceiling. 
All new Apple Stores opened since September 2015 have been based on the new design language, including flagship-tier locations such as Apple Union Square in San Francisco and Apple World Trade Center in New York City. Apple has renovated over 40 existing stores to reflect the newer aesthetic.
(Thanks, Storeteller!)