Apple's AirPods have dominated the "truly wireless" earphones market in the U.S. since launching in December, according to new market research conducted by NPD Group. The industry analyst's Retail Tracking Service found that AirPods accounted for 85 percent of over 900,000 wireless earbuds sold since the start of the year.
Apple's success in the emerging market was put down to brand resonance, disruptive pricing, and excitement over the AirPods' W1 chip, which significantly improves the Bluetooth connection and facilitates transfers between different devices. "With a use case centering on frictionless access to Siri and other tasks initiated by voice, AirPods really act as an extension of the iPhone," said NPD executive director Ben Arnold, calling Apple's wireless earbuds "a computing device for the ear".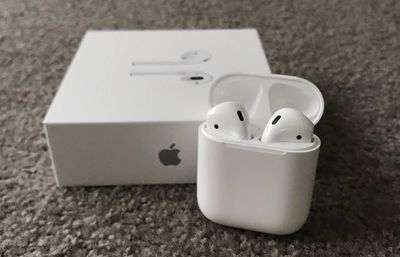 Apple's early domination of the category will continue to challenge competing brands entering the totally wireless market. New entrants will have to provide some differentiation in features, sound quality, or associated services and applications in order to stand out. Consumer reception of wireless earbuds is still forming, even as their use case continues to evolve. As Alexa skills and other voice-first content diversifies, headphones, including totally wireless earbuds, are the leading candidate to be the next piece of hardware to drive digital assistant adoption.
Standout competing brands cited by NPD Group included Samsung's "headphones-slash-fitness tracker", IconX, which features an optical heart rate tracker and 4GB of memory for music storage, and The Dash from Bragi, featuring an ARM Cortex M4 CPU, as well as 27 sensors designed to detect movement and voice input.
"For these products, audio quality remains important, but takes a backseat to new capabilities added on top of the sound experience," said Arnold. "With this in mind, it's not hard to imagine a collection of mobile apps optimized for a voice interface similar to the growing ecosystem of Alexa skills."
Apple's Siri is set to gain enhancements with the launch of iOS 11, which could make the company's AirPods an even more attractive proposition going into the holiday season. For the first time, the virtual assistant will sync what it learns about a user across their devices, and will also be able to perform translations from English to five languages, including Chinese and French.
Apple recently improved its shipping estimates from six weeks down to two to three weeks in many countries, after months of struggling to cater to demand. During Apple's third quarter earnings call, Apple CEO Tim Cook said AirPods capacity had been bumped up and that the company was "working very hard" to get AirPods to customers as quickly as possible.