Logitech today announced CRAFT, the company's latest $200 "advanced keyboard" for Mac and PC that features a creative input dial for more easily accessing context-specific controls while working.
Called the Crown, the "smart aluminum dial" sits on the top-left of the new full-size keyboard and is touch sensitive, enabling creative users to tap or turn it to adjust settings like brush size, brightness, chart type, font size, and so on.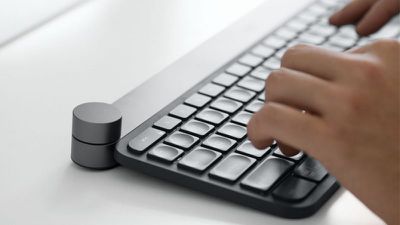 "Our new flagship Logitech CRAFT keyboard is for all creators who spend a lot of time designing and creating - who want to work with greater precision and feel connected to their work," said Art O'Gnimh, global head of keyboards at Logitech. "The creative input dial gives you instant access to the functions you need, the moment you need them, allowing you to increase your productivity by simply touching the dial. CRAFT puts you in your creative element – every time you sit at the desk."
Users can customize the Crown's functionality using custom profiles in the Logitech Options software utility, which is compatible with Adobe Photoshop CC, Adobe Illustrator CC, Adobe Premiere Pro CC, Adobe InDesign CC and Microsoft PowerPoint, Excel and Word, although Microsoft functionalities work on PC only at this time, according to Logitech.


The dial can also be set up to access global Mac controls - giving users the ability to change desktops, navigate between apps, or adjust volume, as well as assign one additional Crown function in each of their favorite apps.
In addition to the creative dial, the CRAFT Advanced Keyboard features smart illumination with backlighting that detects hands and adjusts lighting automatically depending on the room conditions. Meanwhile, a proprietary button on the keyboard allows users to dynamically switch between – and type on – any three connected devices, whether they are using a Windows PC, Mac, or tablet.
The Logitech CRAFT Advanced Keyboard is expected to become available in October 2017, but can be pre-ordered now from the company's website for the price of $199.99.