F1 2017, the official game of the current 2017 Formula One World Championship, got its release on Mac today, coinciding with its debut on PC for the first time in the acclaimed series' history.
According to publishers Feral Interactive, F1 2017 offers gamers all the on-track excitement of Formula 1, while also providing access to the off-track dealings and vehicle development that goes along with it.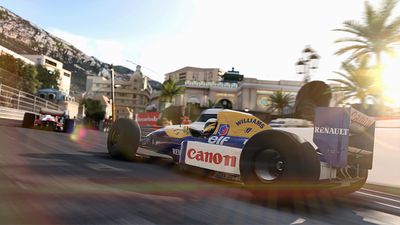 The ten-year Career Mode includes practice programs to help players hone their skills, an expansive Research and Development tree to provide greater control over the development of their car, and the ability to tune engines and gearboxes over the course of the season.

Along with stunning locations and vividly-realised team members, these features combine to provide the most complete F1 experience ever to come to macOS, with all the drivers, teams, circuits and cars from the real-world F1 2017 season.
Players can select from several Championships on offer that follow different rules and structures, including the official 2017 FIA Formula One World Championship, the Classic All-Weather Championship, and the super-accessible, race-only Sprint Championship.


As well as the 20 official circuits, there are also four additional track variants: Britain Short, Japan Short, USA Short, Bahrain Short, and Monaco at Night.
In addition, the game supports Steam cross-platform multiplayer, so gamers can race online against macOS and Windows players with a full grid of 20 cars, both current and classic.
"F1 2017 is an electrifying recreation of the current season, offering a deep, engaging and yet very accessible F1 experience," said David Stephen, managing director of Feral. "We are thrilled to be releasing it day-and-date for the macOS audience."
The minimum system requirements for F1 2017 include macOS Sierra 10.12.5, a 2.0GHz Intel Core i5 processor, 8GB of RAM, 2GB AMD R9 M290 or 1.5GB Intel Iris Pro 6200 graphics or better, and 36GB of disk space.
F1 2017 is officially supported on the following Mac models:
• All 13" MacBook Pros since late 2016
• All 15" MacBook Pros since late 2016
• All 21.5" iMacs since late 2015 with a 2.0GHz Intel Core i5 processor
• All 27" iMacs since late 2014
• All Mac Pros since late 2013
To determine your Mac model and when it was released, select "About This Mac" from the Apple menu in the top menu bar on macOS.
F1 2017 for macOS is available to buy today from the Feral Store and Steam for $59.99/£44.99. The Mac App Store version will be released in the coming days, priced at $49.99/£48.99.