VMware Fusion 10 Coming in October With macOS High Sierra and Touch Bar Support
VMware today announced the upcoming release of VMware Fusion 10, its popular virtualization software for Mac.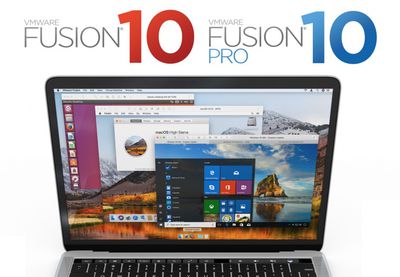 VMware Fusion 10 includes full compatibility with macOS High Sierra, integration with the Touch Bar on the latest MacBook Pro models, and support for Apple's Metal 2 graphics acceleration technology for improved graphics performance, power efficiency, and accuracy of rendering.
Fusion 10 also features a redesigned user interface, including improved Installation and Migrate Your PC wizards.


Fusion 10 can run hundreds of operating systems, ranging from the latest Windows 10 versions to lesser-known Linux distributions. It will be able to run the Windows 10 Fall Creators Update expected to launch in October.
VMware will also be releasing Fusion 10 Pro, targeted at IT professionals and developers. The premium version features enhanced vSphere and networking controls, support for REST APIs, integration with VMware PhotonOS, and support for Microsoft's new virtualization-based security features such as Credential Guard.
VMware Fusion 10 and Fusion 10 Pro are expected to be available in October for $79 and $159 respectively. Fusion 8.5 customers will be able to upgrade to Fusion 10 for $49 or Fusion 10 Pro for $119.
Additionally, customers who purchase Fusion 8.5 or Fusion 8.5 Pro between August 22 and November 1 this year will be eligible for an upgrade to Fusion 10 or Fusion 10 Pro, respectively, at no additional cost.
Fusion 10 will be accompanied by Workstation 14 Player and Workstation 14 Pro with enhanced data center management capabilities.