Parallels Desktop 13 for Mac Comes With High Sierra Support and Touch Bar Integration
Parallels Desktop 13 for Mac got its official release on Tuesday. The thirteenth version of the Windows virtualization software comes with numerous new features including support for macOS High Sierra and the Windows 10 Fall Creators Update.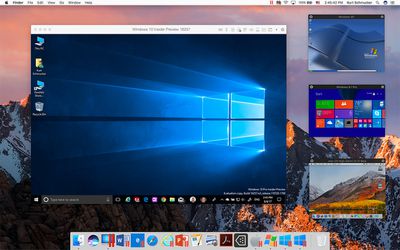 Top of the features list is Touch Bar support, enabling owners of compatible MacBook Pros to use the OLED strip with Microsoft Outlook, Excel, and PowerPoint, as well as additional integration for the Windows Start Menu and Desktop, including Cortana, Task View, and Taskbar pinned elements. A Touch Bar Wizard also allows users to customize the Touch Bar and add their favorite Windows applications.
New dynamic resolution support mean users can change the window size of their Windows session, with booting and rebooting speed said to be faster and smoother as a result. Meanwhile, enhanced support for Retina displays should see better scaling of Windows applications on Mac screens.


A new Picture-in-Picture mode aims to let users monitor their virtual machine with ease, while support for the upcoming Windows 10 People Bar promises to allow users to view recent contacts in the Windows Taskbar or Mac Dock.
More generally, Parallels claims over 47 percent faster access to Windows files and documents compared to the previous version, faster file transfers over USB 3.0 and Thunderbolt SSD devices, and up to 32 vCPU and 128GB vRAM per virtual machine with Parallels Desktop for Mac Pro Edition, with code for all new versions optimized for macOS High Sierra (10.13) and Windows 10 Fall Creators Update.
Elsewhere, Parallels claims over 30 new additional tools can be found in version 13 that simplify everyday tasks on Mac and Windows. They include a drive cleaner, video conversion, a file archiver, a GIF creator, a video downloader, Do Not Sleep and Do Not Disturb modes, a Lock Screen, and the ability to temporarily hide files on the desktop, amongst many others.
Parallels Desktop 13 for Mac costs $79.99 for a new license. Existing users of Parallels Desktop for Home and Student can upgrade to V13 for $49.99, with a time-limited offer enabling users of the Desktop Pro Edition to upgrade for the same price (usually $99.99). For more pricing details, see the Parallels website.
(Thanks, Ulric!)