Earlier in August, it was announced that a remastered version of the popular first-person shooter BioShock would be arriving on macOS platforms sometime this year. Today, BioShock Remastered has launched for compatible Mac computers on Steam and the online Feral store, and an official version of the remastered game for the Mac App Store is set to debut in the near future.
Users who download the game through Steam can get it for just $6.59 (£3.29) until August 28 [Direct Link].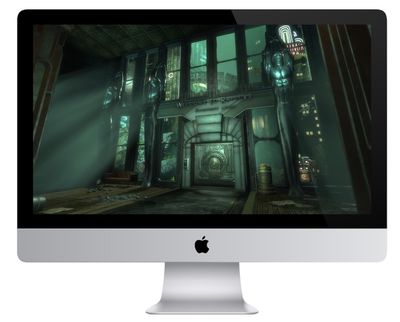 BioShock Remastered is launching ten years and one day after the original BioShock debuted on Microsoft Windows and Xbox 360 on August 21, 2007. For its original release, Irrational Games developed BioShock, while 2K published it, and now the remastered version for Mac is being published by Feral Interactive, which publishes many games for macOS, iOS, and Linux platforms.
BioShock [Direct Link], BioShock 2 [Direct Link], and BioShock: Infinite [Direct Link] are already available for purchase on the Mac App Store, but the first game in the series was last updated in April 2012 and lacked enhanced graphics that more recent Macs can allow for. BioShock Remastered enhances the original game to run at 1080p with a higher frame rate, similar to last year's Windows- and console-only launch of BioShock: The Collection.
The remastered game also includes a wealth of additional content from the original release, as well as DLC added later. The Museum of Orphaned Concepts is a museum-style level that players can walk through to visit early concept art and other ideas that never made it into the final version of BioShock. The game's major DLC, the Challenge Rooms, are also in BioShock Remastered and exist out of the central storyline to offer the player various puzzle and combat challenges.
There's also a director's commentary featuring Ken Levine and Shawn Roberson, achievements support, full controller support, high resolution textures, models, and interface, and 4K resolution support on compatible Macs and displays.
To run BioShock Remastered, Mac users will need a 2.4Ghz Intel Core i5 processor, macOS 10.12.5 (released May 2017), 8 GB of RAM, and 27 GB of available space. Feral Interactive has broken down exactly which Macs will run BioShock Remastered at its full potential, as well as the Macs that are capable of playing the game, "but do not consistently meet the standards required for official support."
Macs officially supported:
All 21.5" iMacs since late 2013 (1GB Nvidia GT 750M Models are not officially supported)
All 27" iMacs since late 2013 (1GB Nvidia GT 755M Models are not officially supported)
All 13" MacBook Pros since late 2016
All 15" MacBook Pros since late 2013
All Mac Pros since late 2013
Macs that can run the game, but lack standards required for official support:
All 21.5" iMacs since early 2013
All 13" Retina MacBook Pros since mid 2012
All 27" iMacs since late 2012 with a 1GB graphics card
All Mac Mini's since late 2012
All 13" MacBook Pros since mid 2012
All 15" MacBook Pros since mid 2012 with a 1GB graphics card
All MacBook Airs since mid 2012
All MacBooks since early 2015
All Mac Pros since 2009 with an AMD 7950 (Mac Edition) graphics card
Otherwise, the game hasn't changed since 2007 and is set in an underground city called Rapture that was built in the 1940s, afterwards falling into a state of disrepair due to a civil war between Objectivist leader Andrew Ryan and crime lord Frank Fontaine. Players arrive to the city in 1960 after their plane crashes somewhere over the Atlantic Ocean, and must use Rapture's gene-altering Plasmids, as well as more traditional FPS weapons, to fight their way through the city's hordes of splicers.
Those interested can head over to the game's Steam page, or the Feral store, to download BioShock Remastered on Mac starting today.