Feral interactive has announced that BioShock Remastered, a new high-definition version of the popular first-person shooter, is coming to macOS later this year to celebrate the tenth anniversary of the game's original release.
Originally developed by Irrational Games and published by 2K for PC and consoles, BioShock is set in the decaying underwater city of Rapture, a darkly imaginative gameworld inspired by Ayn Rand's philosophy of Objectivism.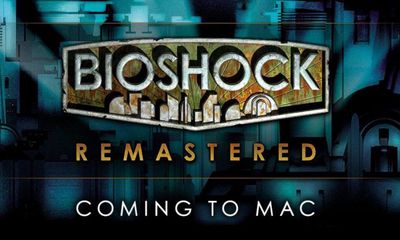 Set in an alternative 1960, BioShock Remastered plunges players into Rapture, an individualistic utopia gone badly wrong. To survive the onslaughts of the city's deranged inhabitants, players must rewrite their own genetic codes, and find creative ways to combine their terrifying new powers with devastating weapons. With a thought-provoking storyline, BioShock is at once beautiful, thrilling and frightening, and explores profound ideas about science, politics and human nature.
"We're thrilled to bring an enhanced version of BioShock to macOS 10 years after its original release," said David Stephen, managing director of Feral Interactive.
"The improved graphics make the most of the spectacular art direction, combining art deco design, science fiction themes, and a horror sensibility. There's never been a better time to visit Rapture."
Rather than an update to the original title, BioShock Remastered will be available as a full game from the Feral Store, Steam and the Mac App Store. System requirements and pricing will be confirmed by Feral closer to release.
Update 8/15: BioShock Remastered will launch on Steam on August 22 for $19.99, and "shortly afterwards" the game will be made available at the same price on the Mac App Store.