A massive four-hour power outage that affected 17 cities and counties across Taiwan on Tuesday had no material impact on the production of new iPhones, according to industry analysts speaking with Nikkei Asian Review.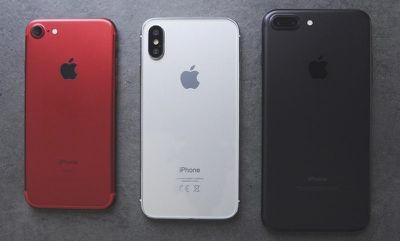 iPhone 8 dummy model sandwiched between an iPhone 7 and iPhone 7 Plus
Apple suppliers Advanced Semiconductor Engineering, PowerTech Technology, and ChipMOS Technologies said the power outage did affect some of their production facilities in Taiwan, although they saw little impact on overall operation and shipments, the report noted. All three companies have resumed regular operations.
Apple's contract manufacturer TSMC also said its operations were not affected, as did fellow iPhone assembler Pegatron, according to Reuters.
The power outage caused a massive blackout in Taiwan, affecting more than 668,000 homes and businesses across the island, according to the South China Morning Post. The incident was blamed on human error at the Datan Power Station in Taoyuan, south of capital Taipei. It was Taiwan's worst blackout since 1999.
KGI Securities analyst Ming-Chi Kuo recently said Apple will begin production verification tests for the so-called iPhone 8 in late August, followed by mass production in mid-September. The high-end device is expected to launch in extremely limited quantities in September alongside the so-called iPhone 7s and iPhone 7s Plus.