Verizon Introduces New 'Up' Rewards Program With Perks Including Free Months of Apple Music
Verizon today introduced a new Verizon Up rewards program that offers customers perks for paying their monthly bills.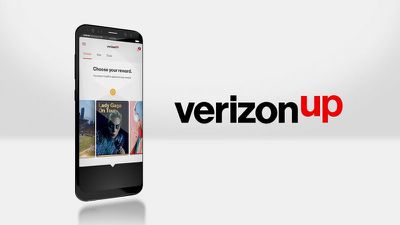 For every $300 spent towards Verizon products and services, including a phone bill, customers will receive one credit, which can be exchanged for one reward. Every month, there are six new customized rewards to choose from, with the selection changing on the first day of each month.
Those rewards include up to four free months of Apple Music for new Verizon customers, and one free month for existing subscribers, along with 20 percent off roundtrip JetBlue flights, three free months of HBO NOW, up to $10 per credit towards their next device purchase, up to 2GB bonus data, and more.
Other rewards partners listed on Verizon's website include Amazon, EA Sports, Google Play, Nike, and Starbucks.
Verizon Up also provides customers with access to a limited number of tickets for events in sports, music, and entertainment, such as NFL games and Broadway shows, on a first-come, first-served basis. There also appears to be a chance to win tickets to major NFL events, including Super Bowl LII.
The rewards program is available to Verizon postpaid customers enrolled in the Verizon Selects marketing program and residing in the United States. Credits earned expire after 60 days, and all rewards have an expiration date. Additional information can be found on the Verizon Up website, video, and FAQ.
Verizon Up is available through the free My Verizon app [Direct Link] for iPhone and iPad.
Update: As a point of emphasis, the required Verizon Selects program uses personal information, such as the web addresses of the sites you visit, apps and features you use, device and advertising identifiers, and information from other companies, to provide targeted advertising and marketing.