Eros Group, a movie production company based in India, is said to be looking at potentially selling its entire media library to Apple, further boosting the Cupertino company's foothold in the Indian smartphone and entertainment markets. The $1 billion deal is said to also include interest from companies like Amazon and Netflix as potential competitors to win Eros Group's library of films and music.
Still, nothing at this time is confirmed. The talks are in "very early stages," according to a source who spoke to Reuters, and even market watchers looking at the deal believe that the $1 billion estimation will be "substantially lower" if any agreement is made. When asked for a comment by Reuters, Eros Group didn't respond, and Apple said it does not comment on speculation, which is its usual response for such stories.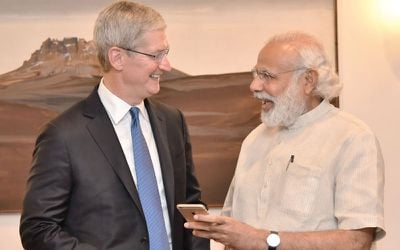 The back catalogue of Eros Group's media library includes 3,000 films, many of which are major movies from Bollywood and are believed to help any streaming partner boost its presence in India. Eros Group reportedly began looking for a company to sell its library to about six months ago, including previous attempts to work out deals with Sony, Star, Viacom, and Zee.
Apple has recently gained a stronger foothold in India through the beginning of production on the first-ever iPhone devices assembled in the country, related to an iPhone SE plant in Bangalore. Aimed at consumers looking for cheaper devices, Apple's made in India iPhone SE smartphones began appearing at retailers in June, although at the time there had yet to be any price cut. If the company wins the deal with Eros Group -- potentially making iOS devices the exclusive home of Eros Group's film and music content -- it could be a way for Apple to convince more Indian customers to purchase iPhones.
Update: Billboard also reports that Apple has held preliminary talks to buy Eros Group, citing sources familiar with the discussions. Like Reuters, Billboard said Eros Group is unlikely to fetch the $1 billion price tag floated by India's The Economic Times earlier this week.