HomePod Firmware Suggests iPhone 8 May Record 4K Video at 60 FPS With Both Front and Rear Cameras
We've learned a lot about the upcoming iPhone 8 thanks to HomePod firmware that Apple accidentally released to the public, and the latest detail highlights what we can expect from the front and rear cameras in the device.
Uncovered by Brazilian site iHelp BR, code within the firmware seems to hint at front and rear cameras capable of recording video in 4K at 60 frames per second.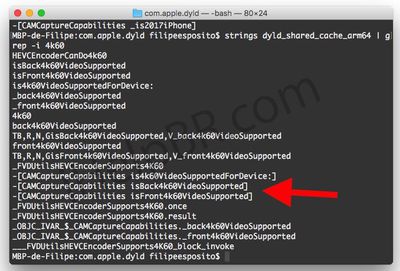 Currently, the rear camera in the iPhone 7 and the iPhone 7 Plus is able to capture 4K video at 30 frames per second, while the front-facing camera is limited to 1080p recording. Though these specifications are mentioned, it's not yet entirely clear if this is functionality that we can expect to see in the iPhone 8, but the improved frame rate could be useful for the augmented reality applications coming in iOS 11.
From leaks earlier this week, we've also learned that the front and rear facing cameras may also gain "SmartCamera" features able to detect different types of scenes, photo conditions, and photography subjects.
The HomePod firmware has provided a wealth of information about the iPhone, and in addition to these camera changes, it's also confirmed infrared facial recognition, the general shape of the iPhone 8, and features like a split sensor bar and tap to wake.