In a new 45 page report by Mark Schaffer of Repair.org, Apple, Sony, and other tech industry companies have been targeted as the reason behind lagging green electronics standards in the United States, which are meant to establish an overall set of environmental leadership specifications for the design, usage, and end-of-life phases of electronic devices.
According to Repair.org, Apple and companies like it consistently output products with extremely low repairability scores, and often fail to meet quality green electronics standards.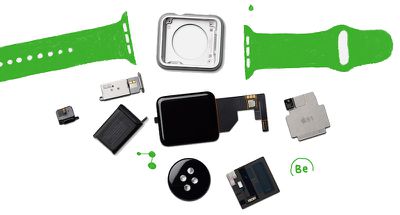 The report said that this is mostly because these tech companies "hold so many positions" on the boards of green electronics standards that they can vote and resist changes they see as potentially unfavorable for their product development. This has caused the standards to become "increasingly ineffectual," making them hard to update and unable to keep up with the fast-paced advancements in the technology that they are written for.

"Green standards in the US play an important role. They are supposed to shape the electronics industry for the better and encourage manufacturers to make more sustainable products. As consumers, we should be able to trust them to identify only the most sustainable products," says Gay Gordon-Byrne, Executive Director of Repair.org. "Instead, members of the IT industry have co-opted standards for their own benefit, warping them into a tool that drives sales at the expense of the environment. This is patently unacceptable, and it needs to change."

Manufacturers including Apple, Blackberry, and Sony have consistently blocked meaningful criteria that would influence their product design, including strong incentives to encourage design for repair or recycling.
In the report, Repair.org looks at the repair/reuse criteria included in the UL 110 standard for cell phones, which was approved in early 2017 and "contains some repair criteria and optional requirements for battery removability without tools." Apple and Samsung were able to claim the highest "gold" ratings for the iPhone 7 and Galaxy S8 right off the bat when the standard went live in July, which the report called "troubling." Repair.org explained that a "properly developed" standard should see newly claimed devices barely able to achieve a lower "bronze" rating, and have to work their way up the standard.
Under a section called "manufacturers oppose leadership standards," the report delves more into Apple's refusal to comply with the support of standardized tools that could be used to disassemble their products. Despite Apple's voting against such a rule, it's said that enough companies decided to vote in favor of this section of UL 110.

The only effective, repair-focused language in UL 110 is an optional criterion that awards manufacturers extra points for batteries that can be removed without the use of tools. It is the only repair-related criterion in the UL 110 standard that incentivizes a different design. Still, one manufacturer steadfastly opposed this proposal and refused to vote for its inclusion in the standard: Apple. Ultimately, this was one of the few instances in which manufacturers broke ranks. Enough device-makers voted to have the optional criterion included in the recently published version of the standard.
Still, the UL 110 standard's various sections -- including end-of-life, reuse, and recycle -- are described as "watered down" and "neutered" to the point that device makers don't have to alter the course of EOL practices that they've been following in previous years. The report then lists a few common arguments manufacturers have given for their actions, including public safety concerns if at-home repair was widely supported, easily accessible authorized repair centers, and more, all of which Repair.org refutes.
Apple has long been a proponent of environmental protection and action in its position as one of the biggest device makers on the planet. This past April, the company released its 2017 Environmental Responsibility Report and announced its goal to set up a "closed-loop supply chain," which would drastically reduce global electronics waste by building new Apple products using only recycled materials, including old Apple products.