Apple Watch Has Now Surpassed Estimated 30 Million Shipments Since Launching in 2015
Apple shipped an estimated 2.8 million Apple Watch units in the June quarter, an increase of 56 percent from an estimated 1.8 million shipments in the year-ago quarter, according to a new report by research firm Strategy Analytics.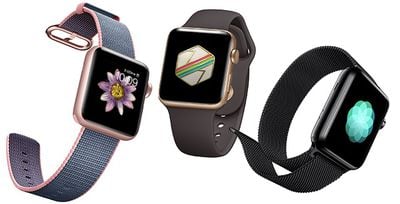 Strategy Analytics previously estimated Apple Watch shipments totaled 13.6 million in 2015, 11.6 million in 2016, and 3.5 million last quarter, suggesting Apple shipped its 30 millionth Apple Watch at some point in the past three to four months.
Specifically, Apple Watch shipments have now reached an estimated 31.5 million units over the product's lifetime.
Despite the milestone, Strategy Analytics claims Apple trails Fitbit and Chinese company Xiaomi, estimated to be the world's largest wearables vendor, but both sell less expensive fitness trackers.
Xiaomi shipped an estimated 3.7 million wearables in the June quarter, according to Strategy Analytics, while Fitbit on Wednesday reported sales of 3.4 million devices in the same period, down from 5.7 million a year ago.


"Apple has for now lost its wearables leadership to Xiaomi, due to a lack of presence in the sizeable fitness band subcategory," said Cliff Raskind, Director at Strategy Analytics. "However, the rumored upcoming Watch Series 3 launch with enhanced health tracking could prove to be a popular smartwatch model and enable Apple to reclaim the top wearables spot later this year."
It's important to acknowledge these are estimated figures, and that shipments do not necessarily reflect sales. And, as mentioned, Xiaomi doesn't participate in the high-end smartwatch market, and Apple doesn't compete in the low-end fitness tracker market. It's essentially an apples to oranges comparison.
Apple doesn't break out Apple Watch sales like it does with iPhones, iPads, and Macs. Instead, it groups the wearable under its "Other Products" category, alongside Apple TV, AirPods, Beats, iPods, and other accessories.
Apple reported "Other Products" revenue of $2.7 billion in the June quarter, up 23 percent on year.
In its post-earnings conference call, Apple CEO Tim Cook once again talked up how well Apple Watch is supposedly selling.
"Sales of Apple Watch were up over 50 percent in the June quarter," said Cook. "It's the number one selling smartwatch in the world by a very wide margin."
"Apple Watch is having a positive impact on peoples' health and daily lives, and motivating them to sit less and move more," he added. "With features like built-in GPS and waterproofing, Apple Watch Series 2 is the perfect companion for hiking, running, and swimming."
Cook has made similar statements in the past. In the March quarter, he noted that sales of Apple Watch nearly doubled year over year. In the December quarter, he announced that Apple Watch had its best quarter ever.
Strategy Analytics doesn't disclose its exact methodology of calculating Apple Watch shipments for competitive reasons, but executive director Neil Mawston has told MacRumors the research firm uses "a blend of channel checks, financial analysis, and other sources" when asked in the past.
"It is the same methodology we have used for phones since the 1990s and for wearables since the modern market first emerged circa 2013," he added.
The focus now turns to the fall, when Apple is rumored to debut Apple Watch Series 3 models, potentially alongside its new lineup of iPhones.