260K Liquid Glitter iPhone Cases Recalled After Reports of Skin Irritation and Chemical Burns
MixBin Electronics has recalled about 263,000 iPhone cases that were filled with liquid glitter, following "at least" 24 reports of users facing skin irritations, being burned, and even getting permanently scarred after the cases broke and the liquids seeped out. The cases were sold by Amazon, Henri Bendel, Tory Burch, Nordstrom Rack, Victoria's Secret, and MixBin itself, and were for the iPhone 6, iPhone 6s, and iPhone 7 (via Consumerist).
In the recall notice, MixBin said that customers "should immediately stop using" the cases in question and contact the company for a full refund. The glitter-filled cases focused on in the recall were sold both in physical retail locations and online from October 2015 through June 2017, ranging in price from $15 to $65. On the list of recalled cases, 16 of the units came from Victoria's Secret.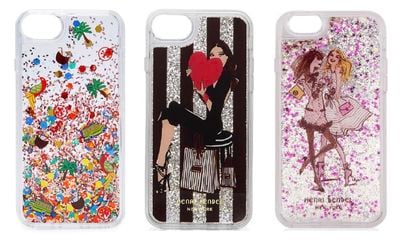 This recall involves all liquid glitter mobile phone cases for iPhone 6, 6s and 7. The cases contain liquid and glitter that are floating in the plastic case. They were sold in various styles and colors and measure about 5.5 inches by 2.75 inches.
There are 24 reports worldwide discovered so far, 19 of which were in the United States, and they reference "skin irritation" and "chemical burns" suffered by the users. MixBin mentioned that one user reported "permanent scarring from a chemical burn," while another said she suffered "chemical burns and swelling to her leg, face, neck, chest, upper body and hands."
Among the 263,000 worldwide units that are being recalled, 11,400 were sold in Canada and 400 were sold in Mexico. To see the full list of the recalled MixBin Electronics cases, including model numbers, UPC codes, and descriptions, check out the notice on the Consumer Product Safety Commission's website.