Neonode today announced that AirBar for the 13-inch MacBook Air is now available to purchase for $99 at select retailers in the United States, including Fry's Electronics and Evine.com. It'll also be available online through Amazon, Best Buy, and Staples, but it doesn't appear to be in stock on those websites yet.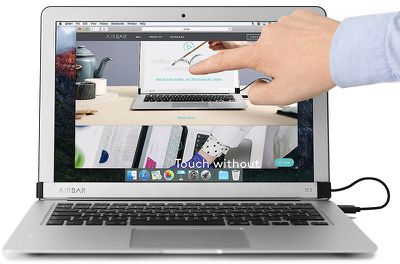 AirBar, a CES 2017 Innovation Awards Honoree, is a thin aluminum bar that magnetically attaches below the 13-inch MacBook Air's display, connects to a USB port, and transforms the notebook into a touchscreen device.
AirBar projects an invisible light field on the surface of the MacBook Air's display. When a finger, stylus, brush, or other object breaks the light, users are able to interact with the screen without actually touching it, including gestures such as tap-to-select, swiping, scrolling, and pinch-to-zoom.
Neonode said AirBar requires 17mm of free space below the display, so it won't fit any MacBook Pro, 12-inch MacBook, or 11-inch MacBook Air.
AirBar is a plug-and-play sensor that "instantly activates" upon being plugged into any USB port on the right side of the 13-inch MacBook Air. Neonode also offers multi-touch software as a one-time installation to enable additional gestures.
AirBar is also available for select Windows laptops with displays sized 13.3 inches, 14 inches, and 15.6 inches.