Volvo's New VNL Series Semi Trucks Include CarPlay Support
Volvo Trucks today unveiled its new line of VNL long-haul semi trucks, which come equipped with CarPlay and several other comfort-oriented technologies.
Designed for professional drivers who travel over long distances, the VNL series trucks include what Volvo says is an "all-new" dashboard with a 5-inch color display that offers up trip and diagnostic data plus a 7-inch color touchscreen that supports CarPlay, a backup camera, and navigation features.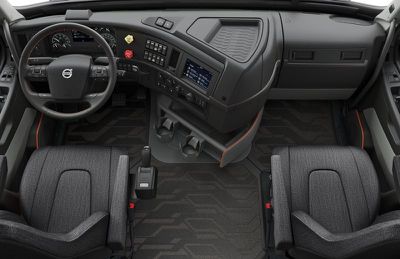 With CarPlay support, drivers are able to access their music, incoming phone calls, messages, and other content safely through a direct connection with the iPhone. Along with the touchscreen, CarPlay controls can be accessed through a smart steering wheel that puts controls for nearly all interface functions right at a driver's fingertips.
CarPlay is just one of the many driver perks built into the truck, which also includes an adjustable steering column, ergonomic seats with heating and ventilation, and sleeper cabs with a reclining bunk.


The VNL trucks come in a range of configurations, including a new 70-inch sleeper in Volvo VNL 760 and 740 models.
Though CarPlay was first officially unveiled in March of 2014, wide availability of the feature didn't come until mid-2015. Since then, hundreds of manufacturers have built CarPlay support into their vehicles, and many aftermarket solutions have been made available. Apple maintains a list of vehicles that support CarPlay on its website.