PSA: AppleCare+ for Mac and iPhone Must Be Bought Within 60 Days of Purchase
All of Apple's AppleCare+ plans for Macs, iPads, and iPhones, must be bought alongside a new device or within 60 days of purchase, according to AppleCare+ support staff that MacRumors spoke to this morning.
Following its Worldwide Developers Conference in June that saw the debut of new iMacs, MacBooks, and MacBook Pro models, Apple introduced an updated AppleCare+ for Mac warranty plan that provides standard AppleCare coverage along with accidental damage coverage.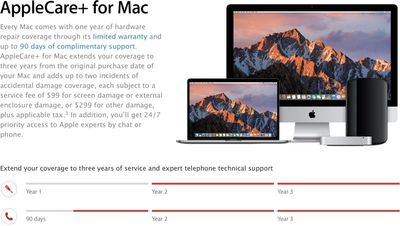 Apple's AppleCare+ for Mac plan was introduced on June 5


The original AppleCare plans for the Mac could be purchased while the Mac was still under its standard warranty, so customers had a year to buy it, but with the new AppleCare+ plan for Mac, a purchase must be made within 60 days.
Apple in March changed its AppleCare+ policy for the iPhone and iPad and temporarily allowed customers to purchase the plan for up to one year after the device's purchase, while it too was still under standard warranty, but that policy appears to have been reverted back to 60 days.

In March of 2017, an iPhone 7 Plus purchased in September was temporarily eligible for AppleCare+. That is no longer the case due to policy reversion


AppleCare+ plans for the iPhone and the iPad must once again be purchased within 60 days of a device purchase. Attempting to make an AppleCare+ purchase on an iOS device purchased more than 60 days ago now brings up no AppleCare+ purchase options when logging into the AppleCare+ website.




AppleCare+ is no longer available for an iPhone 7 Plus purchased less than a year ago


As for the Mac, customers who have had their Macs for longer than 60 days but less than a year are not eligible for AppleCare+ but are still able to purchase a standard AppleCare Protection Plan, MacRumors has learned. Apple is only offering AppleCare+ for Mac on its website, so customers will need to call in to Apple Support to make the standard AppleCare purchase. Standard Mac AppleCare is priced at $149 to $349, depending on the machine.




A MacBook Pro purchased in October 2016 isn't eligible for AppleCare+, but standard AppleCare can still be purchased via Apple Support


AppleCare+ for Mac is available for the MacBook, 13-inch MacBook Pro, 15-inch MacBook Pro, MacBook Air, iMac, Mac Pro, and Mac mini, with prices ranging from $99 to $379. The plan extends the warranty of the Mac to three years and includes coverage for two incidents of accidental damage, but a service fee of $99 will be charged for screen damage or external damage while a service fee of $299 will be charged for any other damage.
AppleCare+ for iPhone is available for $129 for the iPhone 6s and later, $99 for the iPhone SE, and $99 for iPad models. It extends warranty coverage to two years and covers two incidents of accidental damage, with a service fee of $29 required for screen repairs or $99 for other damage.
Purchasing AppleCare+ for Mac, iPhone, or iPad after the device has already been purchased requires customers to run a remote diagnostic to ensure the device is working properly or have it inspected at an Apple retail location.