At its 2017 Worldwide Developers Conference, Apple announced Metal 2, the next-iteration of its graphics API for iOS, tvOS, and macOS. Metal 2 includes support for VR content creation for the first time, and when Metal 2 was highlighted at the event, Apple said Valve, Unity, and Unreal would bring their VR tools to the Mac.
Epic Games is making good on Apple's promise, and has announced that it is releasing early access support for developing for virtual reality on Mac platforms through the Unreal Engine Github.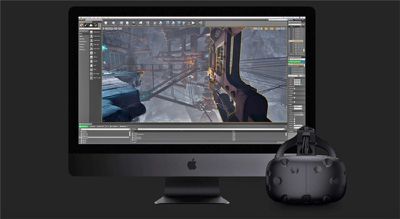 At WWDC, Industrial Light & Magic Chief Creative Officer John Knoll took the stage to demo the Unreal Editor running live in VR mode on one of Apple's newly announced iMacs.
Going forward, Epic Games plans to add full support for VR development on macOS in an upcoming release. Mac VR support, along with general Metal 2 support and Mac optimizations, will ship in Unreal Engine 4.18, with previews coming in September and a full release coming in early October.
Valve started offering a SteamVR for macOS beta back on June 5, as did Unity.
Update: According to Epic Games, early access support will actually be available starting tomorrow morning.