What's New in iOS 10.2 Beta 1: Unicode 9 Emoji, Preserve Settings for Camera, Videos Widget, Wallpapers and More
Apple seeded the first beta of iOS 10.2 to developers this afternoon, marking the second major update to the iOS 10 operating system. While iOS 10.2 doesn't include a single main feature like the Portrait mode that was introduced in iOS 10.1, it does include several smaller features.
There are a bunch of new emoji that were first introduced in Unicode 9, plus there's a new video widget and handy new settings for preserving your camera preferences when taking a photo. For a full overview of the new features, make sure to check out our video.
Emoji
- Unicode 9 emoji are included in iOS 10.2. Some of the new emoji include clown face, drooling face, selfie, fox face, owl, shark, butterfly, avocado, pancakes, croissant, and more. There are more than a hundred new emoji, including several profession emoji available in both male and female genders, such as firefighter, mechanic, lawyer, doctor, scientist, and more. Many existing emoji have also seen significant redesigns.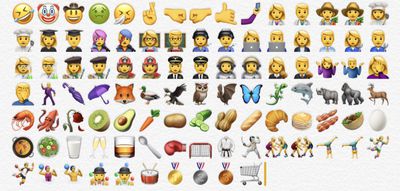 Wallpapers - There are new wallpapers in iOS 10.2, which use the same graphics that were shown off in iPhone 7 marketing materials.




Screen Effects - There's a new "Celebrate" Screen Effect available, accessible when adding an effect to a message.


Camera settings - There's a new option for saving your last known camera settings. This will let you preserve the last Camera Mode, Photo Filter, or Live Photo setting. "Preserve Settings" is available in the Settings App under "Photos & Camera."


Videos widget - There's a new widget available for the Videos app, accessible on the widgets panel by swiping to the right on the Home screen of an iPhone or iPad. The Videos widget displays movies and TV shows in the Videos app, and a tap will cause content to play automatically.


Emergency contacts - There's a new feature that will automatically notify your emergency contacts when you use the Emergency SOS feature on iPhone or Apple Watch. A popup notification shows up when you open the Health app after installing iOS 10.2.
Apple Music - There's a new option to sort playlists in Apple Music by type, title, and recently added. There are also new options for sorting songs and albums by title or artist.
iOS 10.2 is currently only available for registered developers, but Apple will likely make a beta available for public beta testers in the near future.