iOS 11 Introduces Two New Screen Effects Within Messages Called 'Echo' and 'Spotlight'
Messages users sending texts in iOS 11 this fall will be able to share iMessages with two all-new Screen Effects in Apple's texting app.
Specifically, a new "Echo" option sends any selected piece of text to friends by multiplying the message all over the screen. The second, "Spotlight," puts an emphasis on your message by placing a large spotlight on the text as it's sent over to your friend's iOS device.
No new Bubble Effects have been added to iOS 11, at least not in the first developer beta of the software.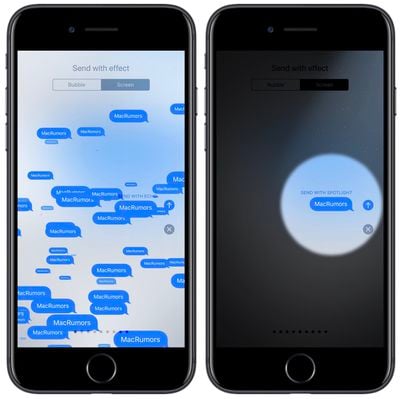 Screen Effects and Bubble Effects made their debut in iOS 10 last year, where Messages as a whole received a major overhaul thanks to the addition of the Messages App Store. On the new platform, apps have become available to download as miniature versions within Messages, including apps for payments, games, dinner reservations, and stickers.
Messages will be getting another overhaul in iOS 11, although one that's not as big as last year's update. This fall, the app's main new addition will be a redesigned App Drawer for your Messages apps, which are placed as a scrollable toolbar below the texting field. Apps should be easier to access in comparison to iOS 10's user interface, which requires one tap to get into the App Drawer, and another to go to Recents to find the app you want.
Check out the full MacRumors iOS 11 roundup for more features coming to Messages, including peer-to-peer payments using Apple Pay and full chat archive synchronization in iCloud, so transferring over to a new iPhone retains all of your old conversations.
(Thanks, Koohyun Y!)