Messages App Store Launches Ahead of Tomorrow's iOS 10 Release
Ahead of the public launch of iOS 10 coming tomorrow, Apple today made the Messages App Store live, aggregating all of the apps, games, and sticker packs that can be used in the Messages app and making them available for download.
The Messages App Store looks almost identical to the iOS App Store, so the interface will be immediately familiar to iOS 10 users. There are featured apps and stickers displayed at the top of the store, along with editorial picks like "10 iMessage Apps We Love" and "Games in Messages? Sweet!"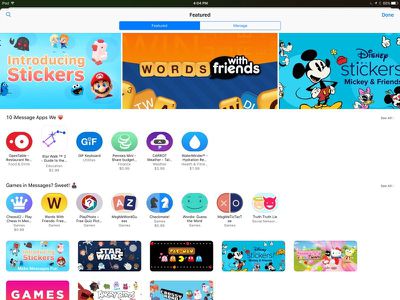 Apps for the Messages App Store are already available, including titles like Games With Friends, Tic Tac Toe, Star Walk, Carrot Weather, Yelp, IMDB, OpenTable, Zen Brush 2, and more.
A number of sticker packs are also available from well-known app developers, including Pac-Man, Star Wars, Angry Birds, Hello Kitty, Crossy Road, and more. iOS 10 sticker packs and apps started rolling out earlier today.
On devices running iOS 10, the Messages App Store and apps compatible with iOS 10 are immediately available. The Messages App Store is accessible by following these steps:
- Open the Messages app
- Tap the App Store icon to open the app interface
- Tap the icon at the bottom that looks like four circles
- Tap the "+" button to open the Messages App Store
The Messages App Store is a little bit sparse right now because apps are still being released, but when iOS 10 becomes available tomorrow, there will be dozens if not hundreds of apps and sticker packs ready to download.
iOS 10 is expected to debut at 10:00 a.m. Pacific Time on Tuesday, September 13.