iOS 11 Users to Gain More Control Over Apps' Use of Location Services
Users of iOS 11 will be able to restrict the gathering of location data by any third-party app so that it can only access the device's location status when the app is in use.
Previously the security setting only applied to certain apps that chose to offer it – as well as to developers wanting to test their own app's use of location data – but it appears Apple is extending the setting for any installed app in iOS 11, potentially handing an additional element of privacy back to the end user.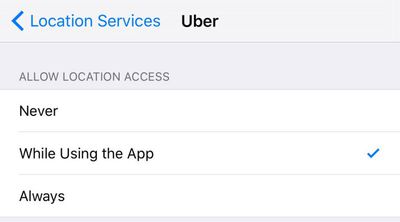 The new setting in iOS 11 should come as a welcome change for many, given that the use of device location data by some apps has been a point of controversy. For example, Uber has been
criticized
for forcing users to grant its app full access to location services whether it is open or not, which has been construed by some as creepy or invasive location gathering.
The new setting should also improve the battery life of devices that update to iOS 11, since it puts a limit on the amount of time GPS is activated by apps in the background.
(Via TechCrunch.)