Feedback App Lists iPad 'Drag and Drop' Feature Ahead of WWDC iOS 11 Preview
A Drag and Drop capability looks set to be coming to iPads in iOS 11, after a reference to the feature was spotted on Monday in Apple's own Feedback app for iOS beta testers.
An entry alluding to "Split View/Drag and Drop" now appears in the app's list of preset options that beta testers use to report issues. Since no such feature currently exists in iOS, it's highly likely we can expect one to be unveiled in iOS 11, which Apple is set to preview in its keynote later today at the Worldwide Developers Conference.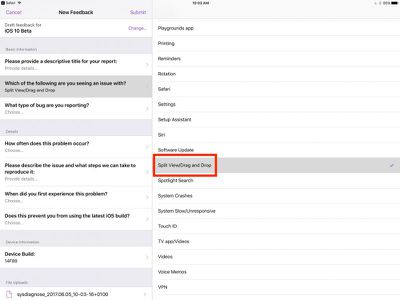 A Drag and Drop feature in Split View on iPads would presumably allow users to easily move content between apps, in a more seamless way than the current method of copying/pasting, which is cumbersome in comparison. Coming on the back of the appearance of an iOS
Files app reference
earlier today, it looks as if iOS 11 could be about to introduce workflow features many users would benefit from.
Several MacRumors readers have mentioned a desire for a better file management system to make it easier to transfer content between apps. MacStories' Federico Vittici recently made a mockup featuring a drag and drop interface and a file storage shelf on the iPad. Today's leak appears to indicate a similar feature is indeed on the way.
During Monday's WWDC keynote, MacRumors will provide a live blog both here on MacRumors.com and on our MacRumorsLive Twitter account, with continuing detailed coverage of everything Apple announces during the week.