Apple's Online Store Goes Down Ahead of WWDC Keynote Later Today
Apple's online store has temporarily closed its virtual doors ahead of today's WWDC opening keynote at 10:00 a.m. Pacific Time.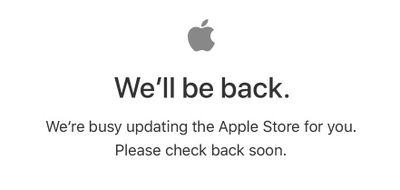 When clicking on the "Buy" button for any product on Apple's website, be it a MacBook or accessories, the online store currently says "we're busy updating the Apple Store for you" and advises customers to "please check back soon."
During the keynote, Apple is expected to announce updated 12-inch MacBook and MacBook Pro models, alongside major new versions of its iOS, macOS, watchOS, and tvOS software platforms.
Apple is also rumored to possibly debut a 10.5-inch iPad Pro and smart speaker with Siri, positioned as an Amazon Echo and Google Home competitor, but those announcements could be delayed until later this year.
Apple routinely closes its online store in the hours leading up to its special events, but that's not typically the case ahead of its Worldwide Developers Conference, since the keynote is usually focused on software only.
For that reason, the store's downtime today is a good sign that new products of some kind will be announced imminently.
WWDC has been absent of major hardware announcements since 2013, when Apple unveiled redesigned models of the Mac Pro, MacBook Air, and its AirPort Time Capsule and Extreme wireless routers.
MacRumors.com will be providing news coverage and a live transcript of the WWDC opening keynote on Monday at 10:00 a.m. Pacific Time. Twitter users can follow @MacRumorsLive for live updates.
Update: Apple's online store became functional again at approximately 5:10 a.m. Pacific Time, but only briefly as Apple fixed an earlier message that incorrectly said to check back starting at 8:01 a.m. Pacific Time.