Swift Playgrounds Will Soon Be Able to Program and Control Robots, Drones, and Toys
Apple today announced that Swift Playgrounds, its iPad app aimed at making learning how to code interactive and fun, will be able to program and control robots, drones, musical instruments, and other toys when the latest version of the app is released at its Worldwide Developers Conference next week.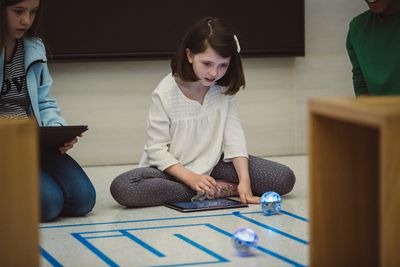 Swift Playgrounds version 1.5, set to be released on June 5, will support several popular Bluetooth-enabled devices, including LEGO's MINDSTORMS Education EV3 robot, Sphero's SPRK+ robotic ball and BB-8 droid, UBTECH's Jimu Robot MeeBot Kit, Dash by Wonder Workshop, Parrot drones, and other toys.
"More than 1 million kids and adults from around the world are already using Swift Playgrounds to learn the fundamentals of coding with Swift in a fun and interactive way," said Craig Federighi, Apple's senior vice president of Software Engineering. "Now they can instantly see the code they create and directly control their favorite robots, drones and instruments through Swift Playgrounds. It's an incredibly exciting and powerful way to learn."
Apple invited a small group of reporters to its Cupertino headquarters to demo the functionality, including Engadget, which put together a brief video showing off the programmable toys in action.
Swift Playgrounds requires no coding knowledge to begin with. Kids and adults alike learn how to code by completing a collection of coding lessons and challenges, and the ability to program and control robots, drones, and musical instruments will make it all the more fun. The app uses Apple's own programming language, Swift.
Swift Playgrounds is a free download on the App Store [Direct Link] for all iPad Air and iPad Pro models, and iPad mini 2 or newer.