For this week's giveaway, we've teamed up with Feral Interactive to give MacRumors readers a chance to win a copy of real-time strategy game Total War: WARHAMMER, which became available for the Mac in April.
Total War: WARHAMMER is a turn-based strategy game that allows players to build an empire and then plan and execute real-time tactical battles against enemies. Unlike other Warhammer games, Total War: WARHAMMER takes place in a high fantasy setting, pitting greenskins (orcs and goblins), vampires, dwarves, and humans against one another.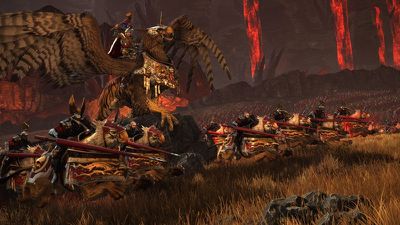 There are four playable factions that players can control, each with unique gameplay elements, play styles, abilities, and units to send into battle. The goal is to build up a city, recruit units, make alliances with other nations, and fight to protect and expand your hold over the Old World.


Aerial units like wyverns and dragons, specially trained Legendary Lords, and other powerful elements like magic must be thoughtfully wielded to turn the tide in battle. Because there are multiple factions and game paths to take, Total War: WARHAMMER is endlessly replayable.
Mac vs. Mac online multiplayer is available and supports up to eight players. There's also a co-op mode that allows players to play through the campaign with or against a friend.


Feral Interactive, for those unfamiliar with the company, is a video game publisher that works with various companies to bring popular PC games to the Mac. Feral has brought a wide range of titles to the Mac, like the LEGO series, Rome: Total War, Tomb Raider, XCOM, and several Warhammer titles.
Total War: WARHAMMER is available from Steam, the Feral Interactive website, or the Mac App Store for $49.99-$59.99, but we have 10 Steam copies to give away to MacRumors readers.
To enter to win, use the Rafflecopter widget below and enter an email address. Email addresses will be used solely for contact purposes to reach the winner and send the prize. You can earn additional entries by subscribing to our weekly newsletter, subscribing to our YouTube channel, following us on Twitter, or visiting the MacRumors Facebook page.
Due to the complexities of international laws regarding giveaways, only U.S. residents who are 18 years of age or older are eligible to enter. To offer feedback or get more information on the giveaway restrictions, please refer to our Site Feedback section, as that is where discussion of the rules will be redirected.